Hey everyone! My next review is for
Purex UltraPacks
. You may remember I've done several Purex reviews in the past and you can find them
here
. I gotta say, These UltraPacks are super awesome for super lazy people like me.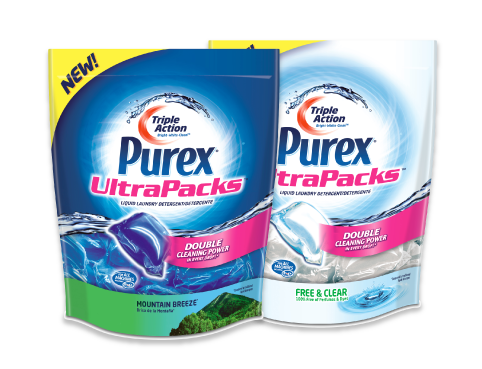 I received the Free and Clear Purex UltraPacks to try and they're awesome!
In February, Purex will be launching the UltraPacks. They are new convenient pre-dosed liquid detergent packs that make doing laundry easier than ever. They're already prepackaged, all you do is toss it into the washing machine before you throw in the clothes. Each pack contains powerful 2x concentrated liquid detergent, giving each ultrapack double the cleaning power in every drop. They also dissolve quickly once the washer is started and they're safe for all machines including HE ones.
I love these, but they also make us so much more lazier. They are super awesome for traveling though! Just bring a few with you and you'll be set. Just make sure not to wet them because they dissolve with water, so make sure even your hands are dry.
I was skeptical on whether or not the little pack would be enough for a load of laundry but after trying it out, my clothes were nice and clean, so these are definitely a winner! They also take up a lot less room than a giant tub of detergent does. I live with roommates so we have a buttload of detergent and not much room, so it's nice to have this little bag that fits practically anywhere.
Overall, this just continues to make me love Purex even more. Definitely check them out in stores this coming Feburuary!
Buy It!
Head on over to
Purex's website
to find out more info or check out
FreeSamplePurex.com
to receive a free sample of the Purex Ultra Packs!