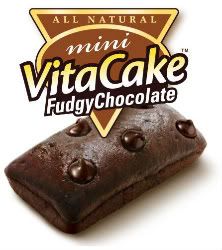 Hey everyone! My next review is for
Vitalicious
. You may remember I did a review for them before and you can check that out
here
. They recently release these awesome mini VitaCakes in fudgy chocolate that are only 50 calories! Awesome!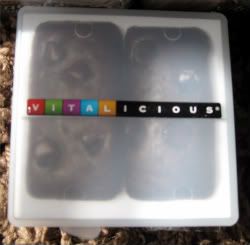 They sent me two giant boxes of these yummy vitacakes a well as two in this awesome little travel case that fits two perfectly. I love this case, it's great for on the go or spending all day rehearsal, you can just snack on these.
These VitaCakes are so delicious and only 50 calories. They're just sweet enough and soft. You actually have to keep these frozen because they contain no preservatives. But you can thaw them in a microwave and once they come out they're warm and even a little gooey, my favorite!
Some other awesome things about these delicious vitacakes are that they only have 1g fat, 2g protein, 14g carbs, and 6g of fiber, plus 15 vitamins and minerals! Awesome!
They're the perfect snack to hit you sugar cravings. Just enough to hit the spot. I had some of my roommates try them too since I received an awesome amount, thanks to Vitalicious so we all attacked them. If you love chocolate, you will love these!
Vitalicious also has an awesome variety of other great snacks, too. I received their VitaTops which are like muffins but just the tops last time which come in a variety of flavors from blueberry to banana nut. They also have VitaBrownies which they also sent me last time, too which are so good too. Basically all of their products are delicious and fairly healthy for you. They also have breakfast sandwiches, bakeware, and more, definitely check them out! Even if you love sweets like brownies and muffins but want to start leading a little healthier life.
Definitely check out Vitalicious, they have such delicious products, you won't be disappointed!
Buy It!
You can either
order them online
or
see what store near you sells them
. They sell them at a bunch of places near me: Shop Rite, Pathmark, Stop and Shop.