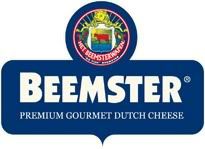 Hey everyone! My next review is for
Beemster Cheese
. Beemster Cheese is an incredibly awesome cheese company that sells an awesome variety of cheese. They literally have almost any cheese under the sun.
They sent me a ton of cheese and goodies!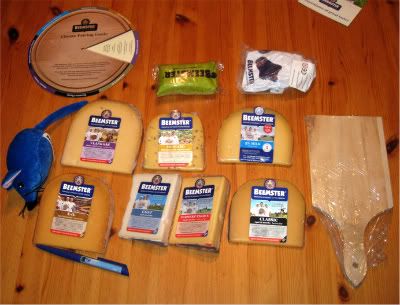 The cheeses I received are:
2% Milk
Classic
Vlaskaas
X-O
Farmer's Choice
Goat
Mustard
I also received a little mouse, a blow up beach ball, reuseable bag, cheese board, pen, and a cheese guide.
These are all incredible. Goat cheese was the first to go and I used it in my omelets and sandwiches with spinach and avocados. I love goat cheese and this goat cheese was nice, sometimes it's too creamy but this was the perfect consistency and tasted wonderful. The Classic one I also opened up right after the goat cheese. I just added it to everything, omelets and everything. Definitely a great basic cheese, almost a cheddar. I added it to my salads as well.
The rest well, the rest my roommates and I had an epic wine and cheese night. We probably should have made it classier and bought more than one bottle of wine, but no one $2 chuck of red merlot seemed fit for us and some cheeses paired well with the wine others did not, did I taste a difference? Not hugely just because my love of cheese trumps any pairing combos. Let's be honest here, I tried them all and loved them all. Did some taste better with the red wine? My roommate Maryna thought so but she also red the cheese pairing guide that Beemster gave us and saw that the Farmer's Choice was the recommended pairing. I guess you could taste the compliments but I did eat more cheese than drink wine, sooo...yeah.
Let's talk about the mustard because it was the most surprising. I was a bit hesistant with trying this cheese because I dislike mustard but this cheese was delicious. It had a nice strong flavor. The website actually recommends you use it on hamburgers and I can totally see how the cheese would make a great addition to that. It's just one of those cheeses that are strong enough to compliment a juicy burger (or veggie burger for me!) really well. The others were so good too. The Vlaskaas was really sweet and creamy which I was also surprised about because a lot of the others had a sharper taste.
Overall, the cheeses were incredible, but I do love cheese so it is really hard for me to hate one, except maybe muenster, I'm not a huge fan of muenster. These all tasted great and it was a lot of fun having a little tasting party with my roommates. They enjoyed all of the cheeses too. I wish I could pick a favorite but honestly? I love them all. Maybe Vlaskaas and Mustard just because they were so different than what I usually eat in cheese, but I loved them all.
Definitely check out Beemster, they have such a huge variety of cheeses you won't be disappointed!
Buy It!
Head on over to
Beemster Cheese's website
and browse their awesome selection!
Win It!
ONE winner will receive a Beemster Prize pack!
1. Go to
Beemster's website
and tell me what cheese you'd like to try next. Please answer this question or else your comment will not count! You must do this first or future entries will not be counted. (1 entry)
BONUS ENTRIES
2. Follow starIMPULSE on blogger. (2 entries!)
3. Subscribe by Email and Confirm that Subscription (1 entry)
4. Follow me on Twitter. (1 entry)
5. Tweet about this giveaway and send me a direct link to that tweet, you can do this once a day. (1 entry per day)
6. Subscribe to my YouTube channel. (1 entry)
7. Add my StarIMPULSE button to your sidebar and send me think link to your blog so I can see it. (1 entry)
8. Add StarIMPULSE to your blogroll (using my URL), with a link back to me! (1 entry)
ONE winner will be chosen on April 3rd, 2012 at 5:00pm (EST) and then will be emailed.
Alternate winners will be chosen if winner does not respond after 48 hours. This contest is only open to all US Residents. Thank you and good luck!
Disclaimer-
I was provided a product in exchange for my review.
You can read more about my blog policies in my disclaimer.