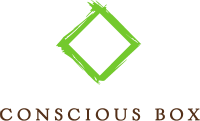 Hey everyone! My next review is for
Conscious Box
. Conscious Box follows what those monthly makeup and jewelry memberships do in that they send you a box of goodies though unlike these makeup and goodie monthly boxes they are filled with pure and sustainable products that are handpicked from businesses that care for the planet.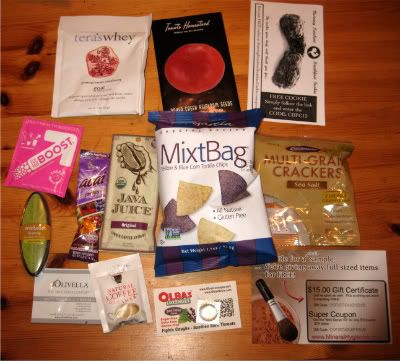 I received the March Conscious Box and it was filled with all of these goodies:
MixtBag Chips
Mineral Hygenics $15 Gift Certificate
Morning Sunshine Breakfast Cookie Free Cookie Coupon
EBOOST
Crunchmaster Multi-Grain Crackers
Hip Mountain Mama $5 Off Your Order Coupon
Olbas Lozenges
Baker Creek Tomato Heirloom Seeds
Java Juice
Good Kind Coffee Creamer
Tea Forte Minteas
Olivella Anti-Wrinkle Cream
Healthy to Go! Acai Energy Boost
Tera's Whey Pomegranate Cranberry Protein
So as you can see the Conscious Box has a huge variety of products not just food not just makeup, a little bit of everything. I also like how it comes with a card congratulating you on your first conscious box and 5 ways to reuse the cute little cardboard box it comes in. You can plant a flower in it, shred it for compost, use the box's window for a picture frame, customize and recycle it for drawing or artwork, or use it as a tissue box. Crafty!
This box is all about spring because March holds the first day of Spring. The heirloom seeds are perfect to start your own garden. Unfortunately for me, I don't have any backyard but I am bringing them back home where my dad is an avid gardener and he will definitely love them. The chips and crackers were the first to go. They were the perfect snack bag sizes and quite delicious. I used the MixtBag with some salsa and they were perfect. The crackers were just delicious too.
I also liked the products that I would normally never try this is mainly the Minteas. They sounded so weird to me. Ginger pear tea flavored mints? Sounds kind of grossss. They apparently wake up your brain and help you concentrate. The Gingko with the lush flavor of pear will have you revisiting your purpose and bringing focus to your mind. I had to try them though I wasn't fond of the flavor combo. These, aside from the Crunchmaster crackers, and whey protein, may have been my favorite items in the box. It could be the placebo affect, but I did concentrate more so after eating one and the flavor, although different, tastes pretty good. Plus it is a huge box not even a sample box of mints. It also comes in a tin which is cool and easy to carry around. Such a nice surprise and I definitely want to look into more products like this one.
The whey protein I also loved because the flavor was incredible. I mean pomegranate cranberry?? Yum! Plus it is goat whey protein, I'm not entirely sure what the difference is but it is 22 grams, made with real fruit and sweetened with stevia. The bag had a few teaspoons in it too and I don't add too much whey to my smoothies so it lasted me like three smoothies.
Overall, the products in Conscious Box were awesome, but I'd rather not review each one one by one but instead recommend you to discover conscious box for yourself. At only $12 a month it is totally worth it. I mean you receive a $15 gift certificate for make up alone let alone how much the other goodies cost. Definitely try it if you want to lead a healthier, more green life but also want to try some new awesome products that you might normally not or still be surprised by old favorites, like salsa chips.
Buy It!
Head on over to
Conscious Box's website
and sign up for a month or three! It is totally worth it!