Hey everyone! So my next review and giveaway is for
Rubbermaid's Hidden Recycler
. Basically, it is what it is, an awesome way to recycle your bottles, cans, etc. but rather than displaying your garbage in the kitchen you can neatly hide this recycler which is pretty awesome, to say the least.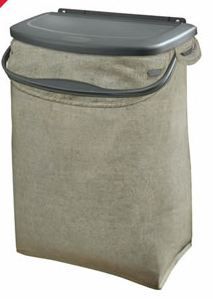 You easily hook this on a cabinet door, say under the sink or that skinny one by the oven and bam, done deal. I really love this guy just because it is so useful! It even has a little handle on the bottom so you can just dump out your recyclables instead of shake them out or take them out one by one.
Some other awesome facts about this fantastic recycler is:
- The bag is machine washable.
- It is made from 65% post-consumer resin
- 5 gallon bag holds 36 uncrushed cans and is large enough to fit 1 gallon milk jugs
It's also really easy to set up. It comes flat but putting everything together is such a breeze. What is unfortunate is that when I just moved here I discovered that the hooks don't fit my cabinet doors properly so I really can't hang it anywhere. I still use it anyway though, not going to lie. It is quite easy to stand up and stands proudly next to my trash can. Yes I have to be one of those people that displays it because I have no choice but hey, at least I recycle. Something I discovered here in California is that there's a small charge for plastic and glass bottles but you can recycle said plastic and glass bottles and get that change back. Yes, it is small, but the more bottles the more it adds up. Needless to say I have been doing this, much like the homeless men do a few blocks away from me, and I do so with this awesome bag. Hey every penny counts right?
Overall though, this recycler is really awesome and super useful also it is extremely sturdy. If you want a recycler that lasts this is worth it because it's a thick, almost cloth-like material and doesn't rip or anything. Plus it is a nice size, not too big or too small, about the size of a brown paper shopping bag, maybe a little larger. Definitely check it out though you won't be disappointed!
Buy It!
Head on over to
Rubbermaid's webpage for this recycler
and you can either buy it online or find a store near you that sells it, awesome!
Win It!
ONE winner will receive a Rubbermaid Hidden Recycler, too!
1. Comment below telling me what is Rubbermaid product you'd like to try next. (1 entry)
BONUS ENTRIES
2. Follow starIMPULSE on blogger. (2 entries!)
3. Subscribe by Email and Confirm that Subscription (1 entry)
4. Follow me on Twitter. (1 entry)
5. Tweet about this giveaway and send me a direct link to that tweet, you can do this once a day. (1 entry per day)
6.Subscribe to my YouTube channel. (1 entry)
7. Add my StarIMPULSE button to your sidebar and send me think link to your blog so I can see it. (1 entry)
8. Add StarIMPULSE to your blogroll (using my URL), with a link back to me! (1 entry)
ONE winner will be chosen on June 7th, 2011 at 5:00pm(EST) and then will be emailed.
Disclaimer-
I was provided a product in exchange for my review.
You can read more about my blog policies in my disclaimer.