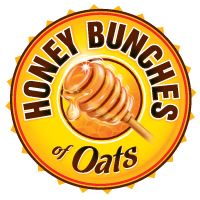 Hey everyone! My next review and giveaway is for
Honey Bunches of Oats cereal!
. Honey Bunches of Oats is one of America's favorite cereal and they actually made it better by adding more of those delicious granola bunches. Yummm! I'm a huge cereal addict and a big lover of Honey Bunches of Oats so I was so pumped to try their new, better recipe!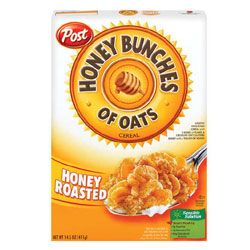 When I say I am a cereal addict I mean it. Sometimes I do eat an egg or waffles in the morning but 8 out of 10 days I am noshing on cereal and Honey Bunches of Oats is one of my favorite cereals. I love the granola cereals because they're kind of healthy but still sweet but also not too sugary sweet. I also love the variety Honey Bunches of Oats has, I love their Just Bunches and their Cinnamon Bunches, but even their original Honey Roasted is just sooo good too. But of course, much like everyone, my favorite part is the bunches (that's probably why Just Bunches is one of my favorites) so I was super excited to try the updated Honey Bunches with more bunches. I have to say, I didn't really notice a huge difference. Maybe that was their point though, they didn't want to overwhelm us and just add a few more bunches. Nothing too crazy because then it would be just like their Just Bunches. It still tasted super delicious and my roommate and I did enjoy a few bowlfuls before the week was up. Either way I still love this cereal, it is one of my favorites and go-to cereal when I'm at the store. It's crazy delicious.
Another great thing about Honey Bunches of Oats is that it is made with four nutritious grains: Wheat, Oat, Corn and Rice. It also has 10 grams of whole grain, 6 grams of sugar (Honey Nut Cheeerios actually has 9 grams!), and zero grams of trans fat, saturated fat, and 0 mg of cholesterol! It also provides 9 essential vitamins and minerals. Awesome!
Overall, Honey Bunches of Oats continues to be on of my favorites. It is just the perfect cereal to start your day. Sweet and delicious but not sugary sweet, just great wake-up sweet. Add some berries, maybe some greek yogurt like I do and you have a well-balanced breakfast. If you haven't tried Honey Bunches of Oats...well what are you waiting for?! You better not be one of those Frosted Flakes or Cheerios people! These are so much better, I promise you, try them and you won't be disappointed!
Buy It!
Literally head on over to your local grocery store, supermarket, heck even Target or Walmart because I bet you they sell them there. If you are not sure though head on over to
Honey Bunches of Oat's website
where you actually can buy them online!
Win It!
THREE winners will receive ONE coupon each for Honey Bunches of Oats!
1. Comment below telling me what is your favorite Honey Bunches of Oats flavor. (1 entry)
BONUS ENTRIES
2. Follow starIMPULSE on blogger. (2 entries!)
3. Subscribe by Email and Confirm that Subscription (1 entry)
4. Follow me on Twitter. (1 entry)
5. Tweet about this giveaway and send me a direct link to that tweet, you can do this once a day. (1 entry per day)
6.Subscribe to my YouTube channel. (1 entry)
7. Add my StarIMPULSE button to your sidebar and send me think link to your blog so I can see it. (1 entry)
8. Add StarIMPULSE to your blogroll (using my URL), with a link back to me! (1 entry)
THREE winners will be chosen on June 4th, 2011 at 5:00pm(EST) and then will be emailed.
Disclaimer-
I was provided a product in exchange for my review.
You can read more about my blog policies in my disclaimer.