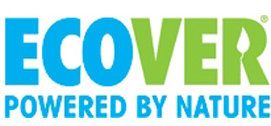 Hey everyone! My next review and giveaway is for
Ecover
. Ecover is a great company that sells a variety of cleaning supplies that are all made from powerful plant-based and mineral ingredients. They're an awesome eco-friendly brand that definitely gets the cleaning job done!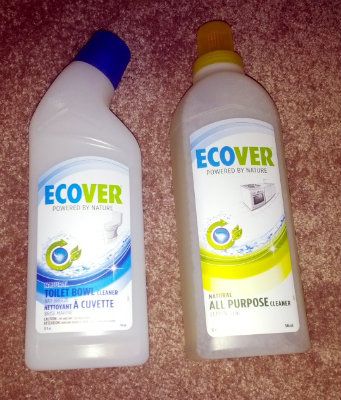 I was sent two awesome products as well as an awesome reusable bag (not pictured). I took a picture of the three of them earlier but somehow the photo got deleted and the reusable bag is actually in my trunk because I rock reusable bags at the store all the time. But trust me, the bag is super sturdy and awesome.
Anyway, the two products I received are the
Natural Toilet Bowl Cleaner in Bay Breeze scent
and the
Natural All Purpose Cleaner in Lemon
. These products are incredibly awesome. I especially like the all purpose cleaner because I use it literally all the time. We have white counter tops so I am nuts with them. A coffee stain or anything I will clean the crap out of it. So I go straight to this stuff and it is amazing plus the lemon smell is just like the cherry on the top of a great cleaning. All you do is add one 1 to 2 capfuls to 1.5 gallons of warm water, you can mop floors or clean counter tops or practically anything with this. If you have stubborn stains you can use it it undiluted and just wash off with a wet cloth. I usually use this method because I don't mop much and, like I said, I am crazy with counter tops but also crazy lazy so I like the fastest way possible.
The toilet cleaner is really awesome too though. It has an angled spout so it's even easier to remove those toilet stains. Another super easy tool all you do is squirt a circle all around the bowl, let it sit for a minute or two, scrub with the toilet brush and you're done. I didn't really know my toilet bowl was dirty until I used this and yup, it really does the job and make your bowl sparkle. Doesn't have that lemon scent but I'd argue the Bay Breeze scent is better. It's almost tropical and just smells so, so good. I love it and love the angle, it really helps so much.
Overall, Ecover definitely did not disappoint. It is such an amazing company too because it doesn't test products on animals, the ingredients are natural, and even the bottle is derived from plants, they call it plantplastic and it is 100% recyclable. People really need to follow after Ecover's footsteps because they really are doing their part to make the save the planet, seriously.
Buy It!
Head on over to
Ecover's website
and browse their awesome selection. Head on over to
FindEcover.com
to see if they are selling them anywhere near you! If you choose to online shop keep in mind they offer free shipping over $40! Awesome!
Win It!
ONE winner will also receive the products above!
a Rafflecopter giveaway