Hey everyone! My next review is for
LaraBar's new, awesome UBER bar!
You guys know I love LaraBar, they're awesome and delicious, definitely one of my favorite go-to bars. You can check out my previous reviews of them
here
Now they have become even better with their crazy awesome Uber bars!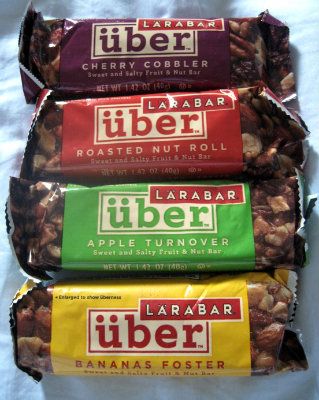 The Uber flavors are:

Cherry Cobbler
Roasted Nut Roll
Apple Turnover
Bananas Foster


They are packed full of delicious flavor to satisfy your sweet tooth but without the sugar or flour-packed fillings. Whether your in the mood for nutty (Roasted Nut Roll) or sweet (Bananas Foster) they have something for anyone!
They're made with ingredients you can prononce like dried apples and walnuts. No added sugars, except from honey! They're awesome and only 190 calories! LaraBars are fruit and nut bars not because it sounds nice but because that is practically all they are made from fruits and nuts. They're also kosher, gluten free, and contain no GMO's.
Honestly I cannot even tell you which one is my favorite because they are all SO GOOD and hit your every flavor mood. Apple Turnover I think is the most unique because there aren't many bars made from apples nowadays but the rest are so, so great too!
Once again, LaraBar does not disappoint. They are amazing and you guys definitely need to check them out!
Buy It!
Head on over to
LaraBar's website
and browse their variety of bars. Uber bars are in stores now too but not yet in Canada (sorry guys!) so keep your eyes peeled!