Hey everyone! My next review and giveaway is for
Wholly!
You may remember that I reviewed them in the past and you can check them out
here
. Wholly is known for their guacamole but now for their giant and delicious line of salsa products too!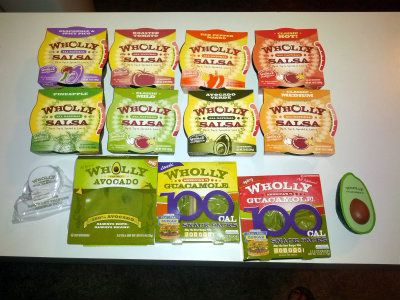 I was sent the following delicious items:
Wholly Salsa: Classic Mild
Wholly Salsa: Classic Medium
Wholly Salsa: Classic Hot!
Wholly Salsa: Avocado Verde
Wholly Salsa: Guacamole and Spicy Pico
Wholly Salsa: Roasted Tomato
Wholly Salsa: Red Pepper Mango
Wholly Salsa: Pineapple
Wholly Avocado
Wholly Guacamole: Classic 100 Calorie Pack
Wholly Guacamole: Spicy 1001 Calorie Pack

I also received a squishy avocado and a chip clip, yay!
I love Wholly and this crazy amount of salsa just makes me love them even more. I am a total salsa girl, not just for chips but I put it in my omelettes, too. I really like the packaging on these salsas underneath they give you other ideas, like add them to your scrambled eggs or pasta, such great ideas!
The salsas taste so delicious, too. I love the classic flavors but my absolute favorite as the Red Pepper Mango. I'm not a huge mango fan but I think because of that sometimes mango flavored things surprise me, like this salsa. It is spicy because of the red pepper but also super refreshing and delicious. Perfect for the summer, when you're just vegging out with chips, salsa, and a beer on a hot summer day at the beach. I just absolutely love it. The roasted tomato was pretty awesome too and this was one where they mentioned adding to pasta and I can totally see why, it can be a delicious sauce but has the consistency of salsa. It was pretty yummy
Wholly Guacamole never disappoints either, though I am not a huge fan of the 100 calorie snack packs because they can be a little messy, wish they were in little canisters instead of like peelable plastic things. But both are delicious and I am always surprised but how much is 100 calories of guacamole. I usually use them in my omelettes instead of peeling avocados and it just makes them taste that much better.
Wholly products are awesome! The salsa is made with all natural ingredients, preservative, gluten, additive, and fat free. The Wholly Salsa line is new too! Just entering stores this past May! So keep your eyes peeled for them!
Overall, this just continues my love of Wholly products. They're all so delicious and still fairly great for you. Definitely check them out, you won't be disappointed!
Buy It!
Head on over to
Wholly's website
and click on the
Where to Find Us
tab to see where they're selling it near you. Looks like Walmart and Target sells it near me!
Win It!
ONE winner will receive a Wholly prize pack!
a Rafflecopter giveaway