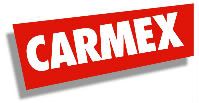 Hey everyone! My next review is for
Carmex
. You may remember me reviewing them in the past and you can check that out
here
. Carmex is everyone's go to lip balm, they're the best and I was super excited to review for them again!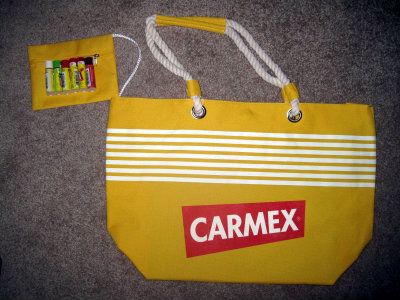 Carmex sent me the perfect summer package! A beach bag with a little pouch connected to it filled with amazing lip balm!
The flavors I received are:
Everyday Ultra Smooth Pomegranate Lip Balm
Vanilla Moisturizing Lip Balm
Cherry Moisturizing Lip Balm
Strawberry Moisturizing Lip Balm
Lime Twist Moisturizing Lip Balm
Original Moisturizing Lip Balm

Last time I had the chance to review their vanilla and lime twist flavors so you can check that out
here
if you are interested in those awesome flavors.
First off, I was so surprised and happy to receive such an amazing beach bag! I don't have one and this one is fantastic and super huge! It can fit my towel and everything! I love the pouch too filled with lip balm!
People easily forget that going to the beach you need to protect your entire body from the sun and that includes your lips. That's what it is awesome that these lip balms are SPF 15 AND water resistant. They're perfect for beach days or just any day!
Their newest flavor is pomegranate and it is amazing. I am a sucker for fruity flavors which is another reason why I was super stoked to receive all these flavors. I had never tried the strawberry and cherry ones and they are fantastic too. Fruity flavors definitely put me in the summer mood. Although it was a difficult decision, I think my favorite is the pomegranate. There aren't many lip balms that are flavored that yet. Plus it smells soooo good. The rest smell amazing too. If you are a cherry person you will love cherry, if you're strawberry you will love strawberry. They're all pretty amazing though and feel so good on your lips. I feel them tingle and soothe my (pretty dry) lips, it just feels so great.
Lip balms are great too just because you can put them anywhere. I am an addict. I have one by my bed right before I go to sleep I apply. I have one in my car, one in my purse, now one in my beach bag, and one right by my desk. I think I'm fully prepared.
Overall, these lip balms definitely don't disappoint. They don't leave your lips feeling greasy or gross, they smell amazing and feel equally amazing on. Plus they're SPF 15 which is incredibly important for this beach weather. Definitely check them out, you won't be disappointed!
Buy It!
Carmex products are available at Walgreens, CVS, and Walmart, or head on over to
Carmex's website
and check out more info where you can get some!
Win It!
ONE winner will receive a kit just like mine!
a Rafflecopter giveaway
Disclaimer-
I was provided a product in exchange for my review.
You can read more about my blog policies in my disclaimer.