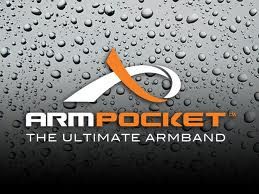 Hey everyone! My next review is for
Armpocket
. Armpocket is an awesome, pretty self-explanatory product. They sell a variety of armpockets that you can put your ipod, phone, keys, whatever in strap it around your arm and work out.
http://img.photobucket.com/albums/v22/mallrat/Untitled-28.jpg
I received the
Armpocket Xtreme i-30
. The Xtreme one is the largest of the models but it really isn't too thick or bulky. I had to choose the bigger one because it was the only one that fits my Galaxy Nexus. But it is really awesome. Like I said, it isn't really bulky at all and fairly comfortable.
It was pretty convenient that I received this now because I just really started running and I plan on attending the
Run for Your Lives
5k in a few months. I always like tracking my progress and listening to Pandora on my phone while running but it is always uncomfortable to hold it and I feel like it is going to fall out of my pocket but this works perfectly!
I had an armband before that was really awkward and too thick, this armpocket is not like this. I also really like that I can still use the touch screen even with the plastic-covered protection.
Some other awesome benefits of this armband is that it is actually water resistant, it won't slip or bound, and it fits all large phons like the blackberry htc, my galaxy nexus, the iphone and more. It also has two mini extra pockets to store your keys and maybe some emergency money. I really, really love this.
Overall, I was super surprised with this Armpocket, it is fantastic and kind of motivates me to work out more because I'm always super excited to flaunt it off. Definitely check it out, you won't be disappointed!
Buy It!
Head on over to
Armpocket's website
and browse their awesome selection!
Win It!
ONE winner will receive an Armpocket for themselves!
a Rafflecopter giveaway