Hey everyone! My next review is for
DaVinci Gourmet
. DaVinci Gourmet has a variety of delicious flavored syrups perfect for coffee, ice cream, and more!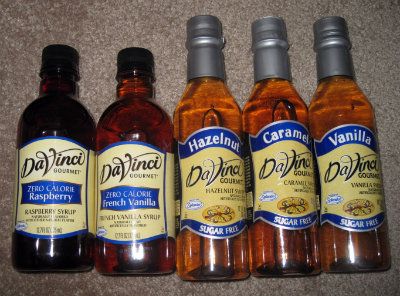 I received the following syrups:
Zero Calorie Raspberry Syrup
Zero Calorie French Vanilla Syrup
Hazelnut Sugar Free Syrup
Caramel Sugar Free Syrup
Vanilla Sugar Free Syrup


These are all really, really delicious. Well, not all, but I don't like raspberry at all, I actually plan on sending it to my dad because he loves both coffee and raspberries so I'm sure he'll enjoy the syrup.
I really loved the other flavors though. They were so, so delicious. I do like flavored coffee, I am actually using hazelnut coffee now from Target and these syrups are just another great boost of flavor. Another plus is that you really can use them instead of adding sugar to your coffee, still sweetens it but the ones that I received had zero calories. Awesome!
They have such a huge selection too, nearly any flavor from blueberry to hazelnut. If you have a sweet tooth you will definitely find a flavor for you!
But what if you don't like coffee? Totally fine! You can add these syrups to soda, tea, milkshakes, or just check out some of their
recipes
to get some inspiration. You can even use them to make stuffing! Yup, stuffing!
Another great thing about DaVinci is that they care, seriously. DaVinci Gourmet is proud to donate a portion of all sales to Coffee Kids: a non-profit organization devoted to improving the quality of life for children and families in coffee growing regions around the world. Now that is really awesome.
Overall, I really loved these syrups, I'm a coffee person but I definitely plan on trying some of their recipes as well. Definitely check them out! You won't be disappointed!
Buy It!
Head on over to
DaVinci Gourmet's website
and browse their fantastic selection!