Hey everyone! My next review and giveaway is for
Rubbermaid
. You may remember I reviewed for them before and you can check that out
here
. This time I received their awesome Lunch Blox!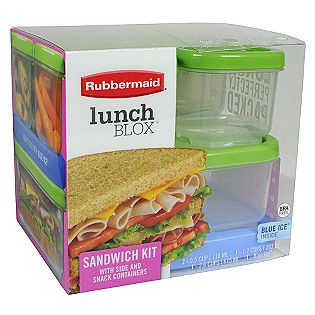 This lunch blox is awesome! It is super compact and as it says on the box: "lunch perfectly packed," well Rubbermaid couldn't be more right!
Lunch Blox contains 2 snack containers at .5 cups each, one side container at 1.2 cups, a blue ice, and 1 sandwich container. Stack them on top of each other and they're less than 5.5 inches tall and less than 6 inches wide. How awesome! They all clip on to each other fairly well but not super tight so you do have to put your lunch blox in a lunch box, make sureo f that. But it does save a TON of space and stays organized.
I really, really love this kit. I love that it makes thinks so much easier. I am an avid lunch packer and this is really great not only with saving space but helping control portions and everything too. The blue ice is awesome too because some of my jobs don't have a fridge so this helps save my lunch at least for a little longer.
Another great thing about these lunch blox is that they're microwave, dishwasher and freezer safe and BPA free. Pretty awesome!
Whether you are getting ready to go back to school or a college grad with an array of miscellaneous jobs (like me!) lunch blox is perfect for you and I definitely recommend them!
Buy It!
Head on over to
Rubbermaid's website
and check out their awesome selection!