Hey everyone! My next review and giveaway is for
Simply Potatoes
. Simply Potatoes is a great company that sells refrigerated, prepared potatoes. I received two awesome coupons to go to my store and try them out!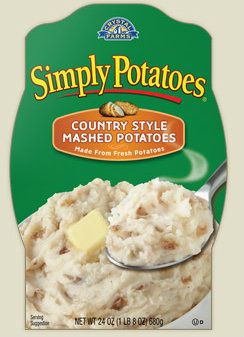 Simply Potatoes recommended buying potatoes and making your own potato salad because that side dish is perfect for summer, I was definitely planning on doing that until I went on a giant scavenger hunt for them! Living in New Jersey, they were super easy to find! I used to eat their Sweet Potatoes all of the time because they're super delicious and perfect for lazy cooks out there like me but I could hardly find any Simply Potatoes out here in California! I think I went to one Ralphs and they only had the hash browns, fast forward to Target, Jon's, Smart and Final, another Ralphs, and finally Vons I acquired the Country Style Mashed Potatoes. I was really gunning for the Diced Potatoes with Onion or at least the Sweet Potatoes or Mac and Cheese but alas I gave in to these. They looked pretty yummy and were a flavor I haven't tried before so I opted for them, it was that or the hash browns and I was too lazy to drive back to the other one.
As their website says, the country style potatoes are:
"Made using whole potatoes, real skim milk, and a touch of real butter, our Simply Potatoes Country Style Mashed Potatoes offer a heartier and healthier alternative to traditional mashed potatoes."
I really, really enjoyed these, I was really impressed. As I said, they're super easy to make. I made it with a little salmon and it was deeelicious. They weren't lumpy or anything, you could not even tell they were already prepared. The country style really gave it a nice little kick of flavor. You can also make some awesome recipes with them, too and the website has a huge assortment of recipes.
Overall, I love Simply Potatoes making dinner can take a long time sometimes cooking everything and Simply Potatoes really helps in that they still taste delicious but take less time. Or if you're lazy like me, these are perfect too. I love them and I am going to keep searching for the sweet potatoes because they're absolutely delicious, one of my favorites ever. Definitely check them out, you won't be disappointed!
Buy It!
Head on over to
Simply Potatoe's website
and browse their website for their huge selection of potatoes, mac and cheese, and even hash browns. They're awesome!
Win It!
ONE winner will receive a Free Product Coupon for ANY Simply Potatoes product! Yum!
a Rafflecopter giveaway