Hey everyone! My next review and giveaway is for
Soft Scrub
! Soft scrub is a great company that sells a variety of awesome household cleaning products.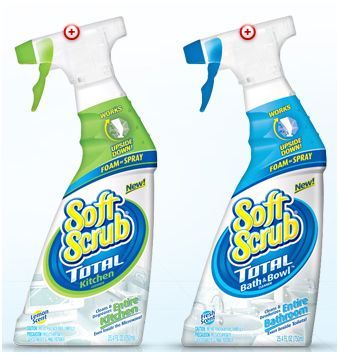 I received the
Soft Scrub Total All-Purpose Cleaner
and The
Soft Scrub Total Bath and Bowl
.
I was pretty excited to receive these cleaners especially the bathroom one. I was running low on cleaning supplies and continued to forget to purchase more so these came at the perfect time.
I actually really like the style and shape of the bottle, too. As their website says:
"The patented trigger allows you to easily switch from a fine mist to a thick foam and even sprays upside down. The unique angle-neck bottle helps you get into those hard to reach places like the inside of the toilet bowl."
I never realized how high tech cleaning supplies are getting, with the foam or spray option and the upside-down capability these products are awesome.
I used the All-Purpose cleaner the other day and I tried the Bath and Bowl for a little bit too but I was focusing on the kitchen, tomorrow is bathroom cleaning day. The foam option really cleans stains and soils and hard to get rid of dirty spots, I mainly used the foam even for regular counter tops because I noticed I didn't have to spray so much and it would still clean awesomely.
Overall, I was thoroughly impressed with Soft Scrub. They're awesome and I definitely recommend them to anyone who is stuck in a rut with their current cleaning products!
Buy It!
Head on over to
Soft Scrub's website
and see where they are selling them near you!
Win It!
THREE winners will receive a free product coupon to get their own Soft Scrub product!
a Rafflecopter giveaway