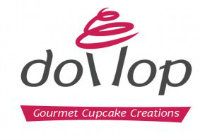 Hey everyone! My next review and giveaway is for
Dollop Gourmet Cupcake Creations
. I was able to review their awesome
gourmet frosting spread
. Dollop was actually the winner of Food Network's Cupcake Wars so I was pretty excited to try their yummy frosting spread!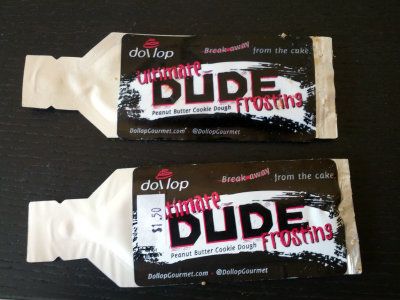 I was sent two packets of their
peanut butter cookie dough frosting spread
. They describe it as all natural creamy peanut butter buttercream swirled with chopped chocolate, brown sugar cookie dough, and kosher salt. I describe it as delicious!
I guess the mailman squished them a little bit because they leaked out and the bottom of the packets were open, but luckily it didn't leak out too much and I still was able to try them. I actually opened the packets from the back since they were already opened there thanks to Mr. Mailman, haha.
I really loved the spread, it tastes so good. Actually with cupcakes my favorite part of the cupcake is the icing so this product is pretty much perfect for me. That's what makes the cupcake, think about, would a red velvet cupcake be the same without its cream cheese frosting? Heck no!
They actually took their Food Network Award Winning Ultimate Dude Peanut Butter Chocolate Cookie Dough cupcake and transformed it into a frosting spread. They have proven that life is all about the topping and that it's finally time to Break Away From the Cake™ which is so true.
A few of my favorites things in life are cookie dough and peanut butter and just combining the two and making it a frosting spread is just incredible to me. I love the little pouch size too because it's just enough to satisfy your sweet tooth and move on. It is so, so, SO good. What's great though is that you can snack on it in the pouch or add it to crackers or a frosting and banana sandwich or something, sounds pretty awesome to me!
Overall, I was super impressed with this spread and it tastes so, so good. It is actually made with real butter, real sugar, and real chocolate, by real people too! And preservative free!
Buy It!
Head on over to
Dollop's shop
and browse their selection!
Win It!
TWO winners will receive two pocket-packs of their Frosting Spread!
a Rafflecopter giveaway