Hey everyone! My next review is for
Omega3Water
. Omega3Water is a delicious flavored water company that is fortified with, you guessed it! Omega 3's! Yay!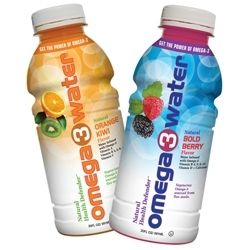 I was sent their two flavors: Orange Kiwi and Bold Berry. They actually sent me a 12 pack of each of them which is super awesome of them! But by the way both flavors taste, these 24 bottles will last a week or two at most, haha. Yeah they're that good!
As their website says:
"Omega-3 is important for human health. Your body, however, does not produce it naturally. Many Americans do not get enough in their diets. Research shows that Omega-3 helps keep your heart healthy. The more you learn about Omega-3, the more you will realize its benefits to help you and your family live a healthier life. Let Omega-3 change your life and give you a better chance to live a longer, younger healthier life. Omega3Water is suitable for all ages, child to adult."
I usually don't like flavored water but these are really, really good. I especially like the orange kiwi because it is has a nice citrusy kick to it. The berry is okay but the flavor is overwhelmingly raspberry and I am not a huge fan, but I know a lot of people that are and definitely enjoy this.
Each bottle is 2.5 servings and 45 calories per serving so that's 112.5 calories per bottle. At 20 fl oz a bottle that really isn't too bad at all! The orange kiwi is enriched with Vitamins: A, B 3,5,6,12 & C and the Bold Berry is enriched with Calcium and Vitamins: B 3,5,6,12 & D. Pretty awesome! They are also kosher and vegetarian friendly!
Overall, I was really impressed with these beverages, they taste so good, not too sweet but you can still taste their flavor and, more importantly, they quench your thirst and are healthy for you. Definitely check them out, you won't be disappointed!
Buy It!
Head on over to
Omega3Water's website
and click on the
Buy
tab where you can purchase them online or find a store near you!