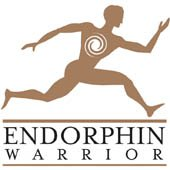 Hey everyone! My next review and giveaway is for
Endorphin Warrior
. Endorphin Warrior is a great company that sells really awesome fitness-inspired goodies like bracelets. They promote motivation and just try and push you more to work out, they are pretty awesome to say the least.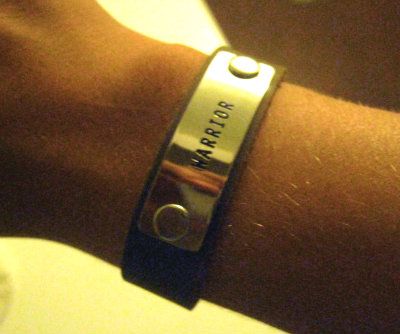 I received the warrior training bracelet in "Warrior."
I chose the warrior bracelet because while I did like the other phrases like "persevere" and "strength," I feel like "warrior" embodies all of those verbs and adjectives in one noun. Keep it simple.
As the card says that came with the bracelet,
"It is designed for training in, racing in, sweating in...and wearing all day long to help keep you strong-minded and focused. The metal tag is nickel plated so it will not rust or tarnish. The leather wristband is made of natural leather so it will last and last."
So the quality of these bracelets are really, really awesome. I don't recommend wearing them all the time though, especially if you sweat when you work out like me, just because you may want to air them out a bit to keep them from getting funky.
Also, just a little tip, when ordering them they ask for your wrist size and recommend using a measuring tape but I just used my ruler and it was totally fine, so don't stress if you can't find a measuring tape!
Overall though, I really love this bracelet, I wear it while working out, especially running because everytime I feel like half-assing it I just look down at my wrist and push on. It is a great message to send and great function because people can easily be reminded to keep moving by looking at their wrists. Just to motivate you to push on and work harder, faster, and stronger.
Definitely check them out, they have a variety of fitness inspired jewelry and rings and shirts, the company is just awesome. Check them out if you need some motivation!
Buy It!
Head on over to
Endorphin Warrior's website
and browse their selection!
Win It!
ONE winner will receive a warrior training bracelet of their choice!
a Rafflecopter giveaway