Hey everyone! My next review is for
Jill-E
. Jill-E is a great company that sells a variety of bags from handbags to camera bags, you name it. With a variety of styles, sizes, and shapes they have something for everyone!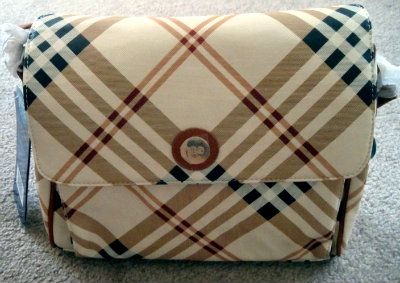 I was sent the
E-Go Tablet Messenger
.
This bag is super cool, I have an iPad so it fits perfectly. Sometimes I bring it to work or on gigs or even traveling but it fits awkwardly in my purse so this is perfect for it. I'm not a huge fan of the plaid print, I'm more of a solid girl, but the inside is awesome.
I'm a huge compartment girl the more places to fit stuff the better and this bag has it covered! When you open the main flat there's a big pocket and then a zipper to the main area. I like that it isn't just a flat covering your tablet and such, that there's a zipper too just because I'm paranoid. Inside that zipper it has another zippered pocket, two little pockets for like your phone and ipod, and two big spaces split by a nice cushioned wall to protect you tablet. Also in the very back of the purse outside there's a little zipped pocket to put your passport or ticket if you're traveling or just easy to grab necessities. It also has a name card so you can write down all your info if it gets lost and a nice, protective cloth storage bag.
It doesn't even have to be used as a tablet bag either you can fit a compact camera body and 1-2 moderately sized lenses in it, or a small 10" laptop, or just regular purse stuff! I'm definitely going to try it out as a camera case, too!
This is a super awesome bag, the perfect size and perfect durability and protection. It's great for the tech person on the go, I love it! They're such great quality and you can tell they will last you for quite a long time. Definitely check them out if you need a new camera bag, laptop bag, or just browsing for a new bag, they have a great variety for anyone. Even guys!
Buy It!
Head on over to
Jill-E's website
and browse their awesome collection, there's definitely something for everyone! Also all plaid e-go bags are only 20% off during the summer sale! So if you like my bag, snatch it up now before summer ends!