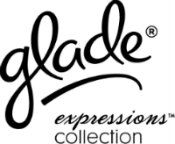 Hey everyone! My next review is for
Glade Expressions
. Everybody knows and loves Glade, they're a great company that has some super smelly (in an excellent way) products. They really are awesome and have fantastic products that last. I received the opportunity to review them thanks to
BzzAgent
. I received two free coupons and I went to Ralphs and picked up some fantastic scents!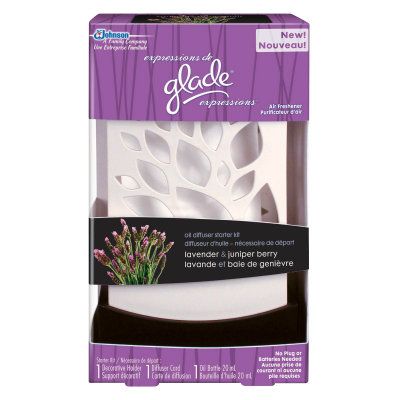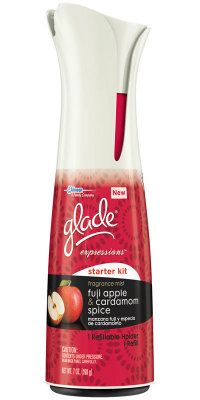 I snagged the
Lavender and Juniper Berry 30 Day Oil Diffuser
and the
Fuji Apple and Cardamom Spice Fragrance Mist
.
I really love the oil diffuser. I had one of those outlet scents from Yankee Candle before, and they didn't smell up the room at all, it stinks. Fortunately they were on sale so I wasn't completely disappointed but it definitely made me not want to buy any scent products aside from like candles for a while just because I didn't trust that it would be strong enough, you know? So I was super grateful to try these because I now stand corrected. The oil diffuser I have in my living room and every time I walk past it, heck even when I am in the kitchen I smell it. I understand it is only day two but still. And the lavender and juniper berry scent is really nice, it's not crazy overwhelming like lavender alone can be but it is refreshing and perfect for a living space. I love it and I definitely want to continue using this if it keeps smelling awesome. Also the diffuser is a nice home decor item in itself. I almost purchased the pineapple and mangosteen scent but it was in a wood color, I like that this one is white. I really hope it lasts 30 days as it says it should because they would totally win over a new customer.
The fragrance mist is your typical room spray but the fuji apple and cardamom spice is so, so lovely and unique. It is a wonderful fall scent, well for me because I always associate apples with fall. It's nice and light and lovely. I put it in my bathroom just to keep on hand. The new style of the bottle is supposed to be a decor item for yourself too but I just keep it under my sink just because it's not something cute to display just a unique shaped bottle. I love the smell and I notice that it does last longer than most sprays. I would leave the room for a bit and return an hour or so later and the scent would still be there. Really lovely.
Overall, I was super happy and incredibly impressed with Glade. The scents are so unique and the products last and work wonderfully. I definitely recommend them if you haven't tried them already!
Buy It!
Head on over to
Glade's website
and browse their awesome selection. Stop by at a local store near you and I am sure they will be selling Glade products as well!