Hey everyone! My next review is for
Pearly Wipes by Borracha
. Pearly Wipes are these fantastic little wipes that you use on your teeth to prevent red wine stains or coffee stains, they are incredible.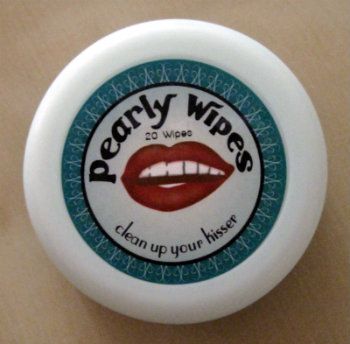 These are crazy awesome. They are almost like wipes but for your mouth, little circles that smell and taste like peppermint. Much like mints but way better because they aren't chalky or two chewy or not strong enough like some mints can be.
As their website says:
"One swipe will clean, freshen and protect your teeth, lips and tongue from coffee and tea stains, sticky margarita residue, acidic wine damage, and even from smoking discoloration."
It is made with baking soda, salt, hydrogen peroxide, calcium, glycerin, and peppermint oil. You can actually read and pronounce these ingredients, pretty cool and that all assist in helping your teeth whether they are helping clean or strengthening them or even protecting them. For instance salt is a natural cleanser and antiseptic, helping remove stains and alkalinize the mouth to fight germs. While the calcium is just there to help strengthen teeth. All the ingredients are here to help you out.
I love the size too because you can easily slip the box into your purse and use them throughout the day if you have coffee or hang out with some friends drinking some wine. Even if you are a guy you can fit them in your pocket.
These are insanely handy and I am so surprised that nobody has thought of these sooner, they are just awesome, definitely check them out because they won't be disappointing. Unless you don't like the taste or smell of peppermint then I'd pass on these, haha.
Buy It!
Head on over to
Borracha's Pearly Wipes' website
where you can order them now!
Win It!
THREE winners will receive their own Pearly Wipes!
a Rafflecopter giveaway