Hey everyone! My next review is for
Powersox
! Powersox is a great company that has a variety of fantastic athletic socks perfect for all sports and exercises.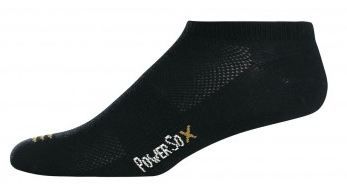 I received the Coolmax low cut in black. It actually came with a set of three whic his awesome. I chose these because, let's be honest, I am a sweater especially when I run and do cardio my feet sweat all the time. The Coolmax has ventilated tops so it helps the food breathe. It also has:
Arch brace for added support
Moisture management with CoolMax® fabric
Lightweight comfort Y heel fit keeps socks in place
Hand linked seamless toes provides ultimate comfort
The socks are really comfortable and great. I did notice my feet weren't as sweaty, yes they did sweat a little but weren't as bad as they usually are. They are really comfy though, sometimes with ankle socks they slip lower and lower down and you lose them in your shoe especially when you are running but these fit snug and didn't move at all. They weren't too tight either though, just super comfortable and great socks.
They are great quality too, you can tell these will last a long time. I have actually had a pair of powersox from a few years back and I still use them all the time. I know this pair will be the same. They aren't thin but aren't too thick where your feet cannot breathe. The are made with 43% CoolMax® Polyester, 43% Cotton, 9% Polyester, 3% Nylon, 2% Lycra® Spandex.
Overall, Powersox has a variety of great socks you can even search via what sport you are performing to find the perfect socks. They're great quality and will really last too. If you need a pair of socks or a few pairs head on over to Powersox, you won't be disappointed!
Buy It!
Head on over to
Powersox's website
and browse their awesome selection!
Win It!
ONE winner will receive a three-pack of Coolmax socks, too!
a Rafflecopter giveaway