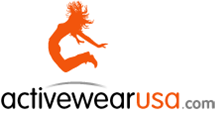 Hey everyone! My next review and giveaway is for
ActivewearUSA
. ActivewearUSA is a great company that sells a variety of awesome fitness apparel for womn.
Sorry for the MySpace photo but nobody was home and I wanted to show it off to you!
I received this awesome Tonic top which I am in love with. I received it yesterday, immediately opened it and went for a run. It is amazing.
I will be the first person to tell you I really don't like fitness tops,mi think they are too tight, I always look pregnant in them. Plus I'm not about to shell out money when I've got a bunch of t-shirts and sports bras, so I refrained from buying them. But man, this top changes everything! It is so comfy and I don't look chubby at all, plus it is so comfy I love it!
This top is built with medium support and coverage, a built in coolmax supportive shelf bra, and quick dry. It is made with Tonic's libra fabric which offers quick dry, full breathability, and is odor resistant. I believe Tonic creates a lot of yoga apparel but I used this for running and it still worked really well. I have no boobs though, so that helps, haha. I really love this top though it is great for running and just going to the gym to work out, too. Sometimes new workout clothes motivate you to workout even more and this top definitely did for me!
Overall, I really enjoyed ActivewearUSA, I really like how they organize it so you can search for a product by either brand, activity, or department. It makes shopping super easy because sometimes when you go to Target the workout clothes are just workout clothes they don't specify which activity and that search area really helps.
Definitely check out this site if you're in need of some workout clothes or need to give your fitness friend a gift for their birthday or want to get a head start on Christmas. They have such a great variety from crazy patterns to just casual black, there is definitely a style for everyone!
Buy It!
Head on over to
ActivewearUSA
and browse their enormous selection, you won't be disappointed! Also be sure to "like" them on
facebook!