Hey everyone! My next review and giveaway is for
Daily's Cocktails
. Daily's Cocktails is a great company that sells premade alcoholic beverages like piña coladas and margaritas. They are in a really easy to use pouch that you can drink from -- adult Capri sun style -- or pour it in a glass and make it classy.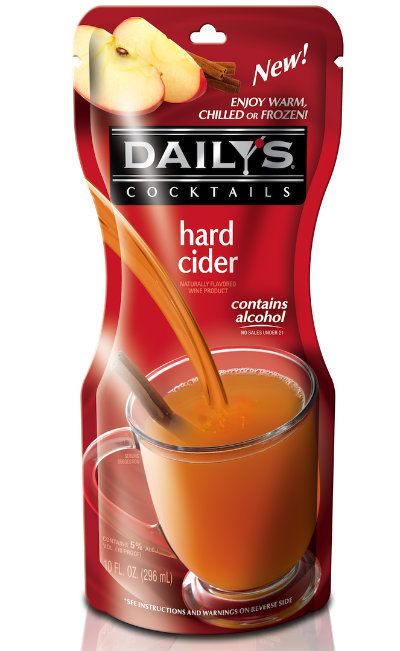 I was sent a gift cad to purchase some Daily's of my choice so I chose:

Pomegranate Acai Margarita
Hard Cider
I purchased a few packets of each of these to share with friends because it's not fun drinking alone if you know what I mean. They were so good too!
I froze the margaritas and they were super easy to defrost and everything. You just run warm water over the pouch til it gets the consistency you prefer and it becomes like a really awesome alcoholic slushy. I had it on Saturday before a party I was going to and tasted great. It wasn't weak but it wasn't overwhelming you know? It was just right. I did have one problem: it tasted so good that I drank it too fast! I wish there was more, haha.
For the hard cider you can also freeze it and make it a slushy, too, but I felt like cider should just be liquid you know? So I stuck it in the fridge and kept it cool. It was really, really good. I thought it was going to taste like regular alcoholic cider, you know? But it actually tasted like apple cider but alcoholic, nice and spicy and so, so good. This one you need to be careful for though because it tastes so good and you can barely taste the alcohol it may sneak up on you though! But nonetheless it was really, really delicious. I bet this one tastes super great warmed up though, I still have a few pouches left and plan on trying it next time.
Overall, I was super impressed with Daily's. Yes their alcohol does come in a pouch but that's to make it easily accessible for you, the waulity and the taste is pretty gosh darn good. They're reasonably priced too! A 16 oz package is like $1.99 at Wal-Mart, not too shabby if you ask me!
Buy It!
Head on over to your local Wal-Mart or check out th store locator on
Daily's Cocktails' website
to see where they are selling them near you.
Win It!
THREE winners will receive a Daily's insulated lunch tote!
a Rafflecopter giveaway