Hey everyone! My next review and giveaway is for
Oransi
. Oransi is a great company that sells great air purifier and laundry products really catering to allergy and asthma by trying to clean up the air and clothes you wear. Pretty coooool!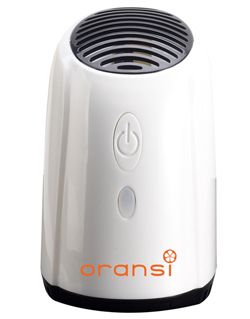 I received their
Ionic Fridge Air Purifier
.
As the website says, simply this purifier is:
"Silent, intuitive and effective in making your refrigerator smell incredibly fresh."
Its main functions are to:
-Eliminate food odors in your refrigerator.
-Kill bacteria.
-Reduce food spoilage.
-Prevent mildew.
-Sterilize fridge once every hour.
-Neutralize stale and foul odors with fresh air inside refrigerator closets.
I had never really heard of fridge air purifiers before but it sounded really cool and I'm all for helping out my fridge and my food. I put it on one of the bottom shelves, all you do is press the button and boom. It runs pretty much five minutes for every two hours until the battery runs out.
This is really cool, honestly I don't know if it is improving the air much yet because it has only been in there like three days but my veggies are still fresh and sometimes they go bad pretty quickly, especially when I don't close the bags properly which happens pretty frequently.
Overall, it is pretty cool and I definitely recommend it if your fridge is going a little stale and needs some freshening up. It is really cool!
Buy It!
Check out Oransi's
Oransi's facebook page
and check them out!
Win It!
ONE winner will receive their own Oransi Fridge Air Purifier!
a Rafflecopter giveaway