Hey everyone! My next review and giveaway is for
Purex
. You may recall I have reviewed Purex numerous times in the past and you can check them all out
here
. Purex is a great brand that is trustworthy and sells fantastic, quality products.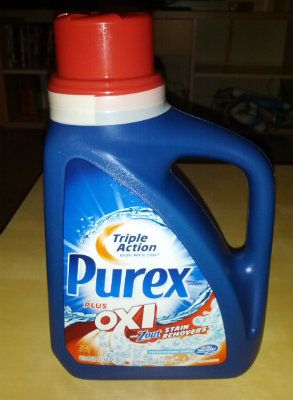 This time I was given the opportunity to review their
Purex with Oxi detergent
.
Purex plus Oxi is the most powerful Purex there is. It works against 101 different stains! The three stain-fighting enzymes in Purex plus Oxi each work against different types of stains for the most Purex stain-fighting power you can get. This Purex detergent is a hypoallergenic formula with a light, fresh scent, too.
This detergent is also pretty awesome as a pre-treater, too. Pour a little bit of this detergent onto the stain, rub the stained fabric together and let sit for five minutes before you put it in the washer and then add it to the load like a regular detergent.
I just used this today and it really worked wondefully. I had some paint stains from painting during babysitting. I was super worried about them because it is a white shirt and one of my favorite tee's but Purex didn't disappointed and got the paint stains out super easily. I was really relieved and next time plan on wearing a darker color shirt when sitting for real.
Right now they actually have an awesome sweepstakes where you can win $6,000 in prizes! Purex wants to give 1 lucky winner $1,000! There will also be 250 2nd place winners that will each win $25! All you have to do is sign up below for your chance to win. All you have to do is
enter to win here!
. Hurry sweepstakes ends on November 30th! Overall, Purex lives up it's name and continues to be the best laundry detergent there is. It leaves my clothes super clean and smelling great. Definitely check it out if you want to switch detergent, especially if you want to save some money because Purex is super reasonably priced!
Buy It!
Head on over to
Purex's website
and browse their awesome line of detergents!
Win It!
THREE winners will receive one free product coupon for Purex with Oxi!Or enter to win the Purex sweepstakes
here!
.
a Rafflecopter giveaway