Hey everyone! My next review is for
BioBrite
. BioBrite is a great company that sells a variety of fantastic alarm clocks, lights and more!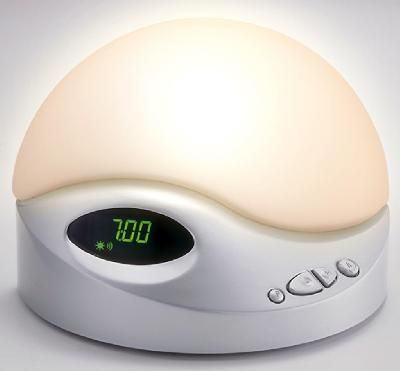 I was sent their awesome
SunRise Clock
.
Their SunRise clock is the world's first fully integrated dawn simulator, can help you fall asleep naturally and wake up feeling refreshed.
As their website says,
"the SunRise Clock™ Sleep Sound model offers a full complement of programmable features, including the ability to set your own sunrise and sunset for 15, 30, 45, or 60 minutes; a back-up audible alarm; a snooze option; a smart display that dims at night so it won't disturb your sleep; a nightlight option; your choice of 12 or 24 hour time read-outs; and a security feature that turns the light on at random times at night to indicate that someone is at home. This model also comes with several soothing sounds to help you relax and fall asleep easily, including ocean waves, white noise, gentle rain and a babbling brook."
I really love this alarm clock. It is incredibly unique. I love how to has a nice big light that is super great for reading but also can dim down to a not-bothersome but soothing night light. Let's be honest, sometimes you need a night light after being an idiot and watching a scary movie before bed, I know I do.
I also LOVE the sounds. I actually like the white noise one the best because water noises tend to make me have to wake up and go to the bathroom. But I live next to a high school and the basketball courts are right under my window so lately I've been using my fan to try and block them out but this is perfect. It's right next to my head so it drowns everything out.
Overall, I really love this clock, it is rather large though but that's because it is a clock and light. I definitely recommend it if you are in the market for a new clock or want to give it as a gift. Browse their website for other useful gift ideas too like SleepPhones which are headphones that play music as you sleep. What an awesome idea!
Buy It!
Head on over to
BioBrite's website
and browse their awesome selection!