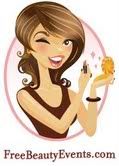 Hey everyone! It's your monthly reminder to check out an awesome website called
FreeBeautyEvents.com
. Free Beauty Events is an awesome website that has free makeovers, free samples and a chance to win beauty products in our monthly contest. By entering your zip code to find out what makeover, gift with purchase, spa open houses and sampling events are happening near your home.
For the month of December 2012, we will be giving away 10 prizes. Each prize will consist of Maybelline Lash Stiletto Ultimate Length Mascara, Bio-Oil, and Yes to Blueberries Age Refresh Overnight Hydrating Cream. The Contest runs from 12/1/2012 to 12/31/2012.
Also, at Walgreens on December 15th, you can try the latest Sally Hansen products for their SaturDate with Beauty! From 10:00a.m. – 5:00p.m., Beauty Advisors will be showing customers how to apply Sally Hansen's new InstaGel Strips, as well as giving away $2 coupons. They are also having another SaturDate with Beauty for Coty fragrances on December 22nd. Beauty Advisors will be giving away samples of David Beckham Homme, Shakira Elixir, Shakira Florale, Playboy VIP, and $1 coupons for any Beyonce or David Beckham fragrance. And, there is a free gift with purchase, a free Shakira purse with any Shakira purchase. This is a great time for customers to get help picking out a fragrance for the holidays. Information like this is available on their website where spas and retailers can promote their events. Anyone who would like Free Beauty Event's site visitors to know about their beauty event can make a posting for free on our site
http://www.freebeautyevents.com/submit
.
Definitely, check out
Free Beauty Events
because we all love being pampered with makeup and beauty products, but what's even better is getting them for free!
Be sure to
"like" Free Beauty Events
on Facebook and
follow them on Twitter
.