Hi Everyone! My next review is for
BassBuds
. BassBuds are really great high performance ear buds that come in a variety of awesome colors and are insanely awesome. They even have a hands free mic and MP3 controller.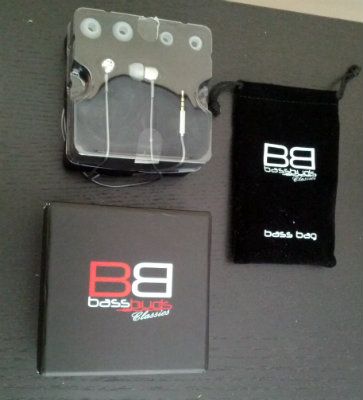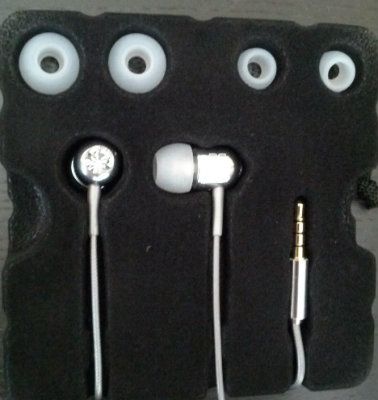 I received the
Platinum
color which is a great silver color that goes practically with anything.
These BassBuds really are awesome. Here's some features these babies have:
-They are integrated high-quality with a mic and call/mp3 controller. So you can use these for your smart phones too!
-They have crystal clear HD audio via the Advanced Crystaltronics Virtual Surround Technology.
-They're anti-tangle, durable, and have a double wrapped cable.
-They have precision-cut, high quality aluminum housing.
-They have gold-plated 3.5mm audio jack for optimum connectivity and sound quality.
-Lastly, those little crystals on it aren't just any old rhinestones for decoration but are genuine Swarovksi Elements, embedded into the design.
These are the definition of bling. Seriously pimped out earbuds but they are so awesome and the sound quality is vastly improved from those cheap ones you find in the checkout line at Marshall's or the 99 cent store. These will last you a long time.
I go through earbuds a lot because I'm always using my phone or my ipod to listen to music when I work out and I just toss my earbuds in my purse, they get all tangled and hit things and almost as soon as I purchased them the one ear is out or the wire is broken. These won't do that. Also they come with a pouch too, which I found to be super useful so they don't get snagged or all messed up in your purse.
Overall, I was extremely impressed with these because they do work and are so much better than your regular run of the mill ear buds. Definitely check them out, you won't be disappointed!
Buy It!
Head on over to
BassBuds' website
and use the promo code
BB59807
to get $30 off your order!