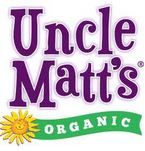 Hey everyone! My next review and giveaway is for
Uncle Matt's
. Uncle Matt's is a great company that has a variety of delicious juices that are organic and not from concentrate. Yum!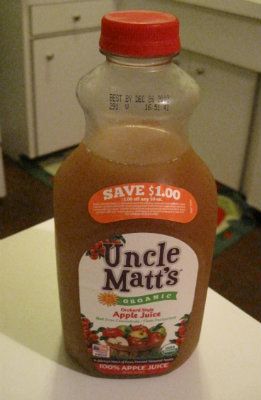 I chose their apple juice to try out, mainly because the Whole Foods w out of their orange juice but also because I do enjoy apple juice too and honestly, I haven't had it in a while so I was pretty pumped to try it.
This apple juice is super refreshing and just lovely. Not too sweet, but still so, so good. It reminds me of this homemade apple cider I would get when pumpkin picking at this farm in New Jersey. So delicious.
The bottle description says it best:
"Bold, beautiful, and brown, our not-from-concentrate organic apple juice is orchard-style, which means we've left all the good stuff in. Its dark brown color and swirls of apple pectin tell you it's full of healthy antioxidants and essential dietary fiber."
I will be the first to agree going organic and all natural with certain items like cookies and such can be a little silly but organic, not from concentrate, juice, especially apple juice, is where it is at. You feel healthy drinking it and it just tastes so much better. You can't compare this to that fake yellow apple juice, it just isn't the same.
Overall, I was super impressed with Uncle Matt's so much so that this bottle definitely will only last another day or two in my house. Seriously it's so tasty! Even if you aren't an apple juice fan, check them out because they have Orange Juice, Lemonade and more! Check them out, you won't be disappointed!
Buy It!
Head on over to
Uncle Matt's website
and browse their awesome selection. Check out a Whole Food's near you and pick up a bottle, too!
Win It!
TWO winners will receive ONE Uncle Matt's free product coupon!
a Rafflecopter giveaway