Hey everyone! My next review and giveaway is for
Splaff
. Splaff is a great company that sells a variety if eco-friendly products. From belts to bags they have a variety if products for everyone!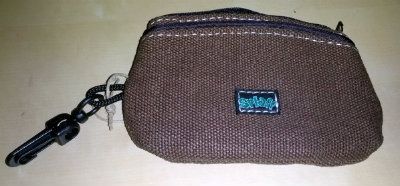 I received a zip pouch from them to try out.
As their website says the zip pouch:
"Features one smaller exterior velcro pocket and a larger interior zip pocket. For carrying convenience, this pouch includes a snap clip, and a belt loop. The perfect eco stash bag."
I really like it because of the size, you can easily fit your ID, credit card, house keys, and maybe some change in it. Or connect it to your house keys when you bring it to the gym. That's what I plan on doing mainly because there has been a few locker break-ins at the gym lately and so I hardly use them, instead of bringing my gigantic purse and putting it into my trunk, I can just slip my ID in this and bring it with me to the gym. Boom.
SPLAFF has been making eco-friendly products and only eco-friendly products since 1997. Our products are carefully handcrafted in North America in a 100% waste-free, earth-friendly process in which all leftover materials are either reused or recycled. They don't believe in or use sweat shops, animal products, toxic glue, or waste. Their products are least 90% of all materials used in our products are environmentally-conscious materials and at least 90% recycled content.
Definitely check them out, they have a great array of products that are super handy. Even sandals! Splaff makes a great variety of products, perfect gifts or even the zip pouch makes a great stocking stuffer, too!
Buy It!
Head on over to
Splaff's website
and browse their awesome selection!
Win It!
TWO winners will receive zip pouches!
a Rafflecopter giveaway