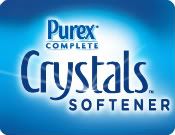 Hey everyone! My next review and giveaway is for
Purex Crystals Baby
yup to go along with the laundry detergent, Purex also created a Baby line of their Crystals. If you want to check out my previous Purex reviews, check them out
here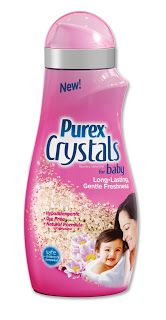 Like Purex Crystals, this new product is 87% natural. It goes in at the start of the wash, spending more time with your baby's laundry and infusing it with freshness that lasts for weeks, not days. Plus it is hypoallergenic, and dye free. They don't contain any oil so they can be used with any laundry and safe for use on all clothes, including your children's.
It smells so great and works well with all types of clothing from athletic apparel to children's sleepwear. It really helps get out the stains, but more importantly it is a fabric softener so it makes all the clothes super soft and wonderfully cozy!
Honestly, I prefer the original Purex Crystals I received I believe last year. It was called Tropical Splash or something like that and smelled INCREDIBLE. This one smells lovely too, but I prefer the other one. Though this one is much better if you have kids because it doesn't irritate their skin which is lovely. So if you are a parent, definitely check out Purex Crystals Baby.
Overall, Purex definitely doesn't disappoint, but let's be honest, do they ever?
Buy It!
Head on over to
Purex's website
and see where they sell them near you!
Win It!
THREE winners will receive TWO Purex Crystals Baby free product coupons!
a Rafflecopter giveaway