Hey everyone! My next review and giveaway is for
The Bronx Naturals
. Bronx Naturals is a great company that sells a variety of fantastic natural soy candles that are hand poured and smell amazing.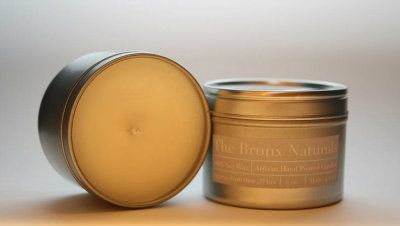 I received a 4 oz. tin candle in the scent Lemon Energy.
This scent smells amazing, I actually think it's a perfect bathroom scent because lemon scents just make me think of cleanliness. The room that I strive for it to be the cleanest is obviously the bathroom, so I think it's the perfect scent. It also smells a lot like those lemon drops candies, I really, really loved it.
I also like to put this type of scent in the bathroom because it's not called "lemon energy" for no reason, lemon is a strong but lovely scent that kind of rejuvenates you and wakes you up, so it's perfect in the morning. Though you also can put it in your room or where ever you need a burst of energy.
It's also a great size because the scent is so strong that really all it needs it to be lit for a little bit to get the room smelling lovely and amazing. It's a great travel size, too. Not that you would travel with candles but in case you are giving a little gift or making a gift basket it's a great addition to it. Plus this small tin still has over 20 hours of burning time, that is pretty amazing!
Another great thing about The Bronx Naturals is that they care. They donate 10% of all sales to The Bumi Sehat Foundation International which helps mothers in third world countries to give birth to healthy children. That is really awesome and a great cause to help. I definitely love buying products from companies that help those in need.
Overall, I was really impressed with The Bronx Naturals. Their all natural candles really are amazing, plus their donations to the Bumi Sehat Foundation are just so, so nice of them. The work and last as long, if not longer, than regular candles. Definitely check them out you won't be disappointed!
Buy It!
Head on over to
The Bronx Natural's website
and browse their selection! Use the code
"SZER8L"
to get 10% off your order! Also make sure to
"Like" The Bronx Naturals on Facebook
because they will be a chance for facebook fans to receive a free candle coming up soon!