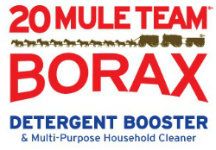 Hey everyone! My next review and giveaway is for
20 Mule Team Borax!
Borax is a cleaning solution that can be used for nearly anything and works pretty awesomely!
20 Mule Team Borax is 100% natural mineral from the earth. once removed from the ground it's boxed for consumers to use. It's great use it to be added to laundry. Adding your regular detergent along with 1/2 cup of 20 Mule Team Borax to every load it improves your detergent's cleaning power and keeps stains from being re-deposited back onto clothes. Pretty awesome!
20 Mule Team Borax is also great for other various things like cleaning your drain and garbage disposal, getting rid of stinky smells, cleaning your rug/carpet and more. It's pretty crazy all the uses Borax has, seriously just google some stuff and you will find so many uses for it.
The back of the box is actually super useful and gives you directions on how to use it in laundry as well as other ways like the above.
I actually used it in laundry just because I received it the day before laundry day. I just mixed it with my detergent and waited. The result was pretty awesome, I'm sure it was a mixture of my Purex and Borax. But my clothes seemed brighter and cleaner than before and all the stains were removed.
Overall I was super impressed with 20 Multe Team Borax, it's a great product and it works for so many things that it is pretty amazing. Definitely check it out you won't be disappointed!
Buy It!
Head on over to
20 Mule Team Borax's website
and see where you can buy it near you!
Win It!
THREE winners will receive a 20 Mule Team Borax Free Product Coupon!
a Rafflecopter giveaway