Hey everyone! My next review is for
BeachTowels4U.com
. BeachTowels4U is a great website that sells a variety of awesome beach towels for people of all ages. From your favorite team to your favorite candy they have a huge variety of novelty beach towels.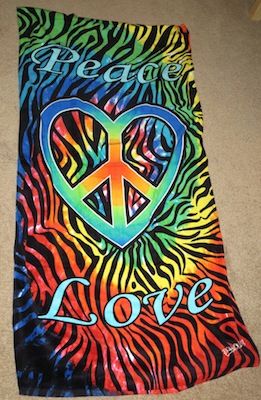 I received their
Tye Dye Love/Peace Beach Towel
.
I chose this beach towel because it just looked really fun. Whenever I think of all the novelty beach towels that I have at home and I just think of giant dolphins, parrots, Scooby Doo, etc. That's what beach towels are about you know? And that's what this one is.
It's really colorful and a little cheesy but it's great. I'm from New Jersey so this towel reminds me of those ones you see on the boardwalk. It just brings back fun times.
The size is nice too, it's 30 inches by 60 inches which nearly 2.5 by 5 feet so you can fit almost your whole body on it. Let's be honest, it's the perfect size because you like have your feet dangle off it because they're already sandy.
All of the towels are 100% cotton too so they're not going to be itchy or bug you while you're sprawled out on top of it. They're high quality and great for Spring Break, definitely check them out you won't be disappointed!
Also, the owner asked my to post that her and her sister are looking for their third sister. If you can check out their facebook page
here
, check out the photo, and help them out they would really appreciate it!
Buy It!
Head on over to
BeachTowels4U.com
and browse their selection! Also remember to follow them on
facebook
and
twitter
too!