Hey everyone! My next review is for
Out of Print Clothing
. Out of Print Clothing is a great website that sells a variety of awesome shirts and tote bags with your favorite classic novel covers printed on them. As a hardcore book lover and t-shirt lover myself, this is such a great idea to combine the two loves into one awesome product.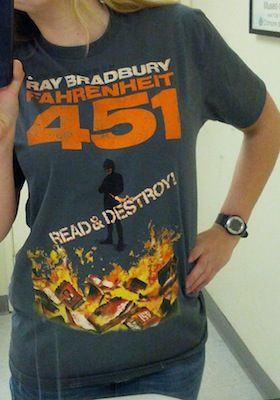 Sorry for the mirror shot and that I cut off my head but I'm sick and makeup-less and was at work...so yeah! Anyway!
I chose their Fahrenheit 451 t-shirt because it is one of my favorite books. They had men and women's sizes but I chose their men's because I like loose fitting shirts. I tend to go for the unisex/men's over the women's tighter fit just because I prefer them looser. They're more comfortable that way. Plus it looked like the girl's shirt was a lighter gray and the men's was darker and I preferred the darker color.
This is a really great t-shirt. I love it. I wore it literally the day after it I received it to work. I love how the orange really pops on the dark grey shirt, along with the tagline: "Read and Destroy" it proves to be a really great statement shirt.
Like I said above, I am a hardcore book lover. My friends and family can tell you. I always participate in the 50 Books a Year Challenge just for my enjoyment. Whenever I am traveling or even after a long day of work, I like to relax with a great book. To pick a favorite genre would be difficult, but I am really into dystopian books as of late. Young Adult books are getting heavily involved in that genre what with The Hunger Games and Divergent coming out, but books like 1984 by George Orwell, Brave New World by Aldous Huxley, and this great one Fahrenheit 451 by Ray Bradbury arguably began the genre. Fahrenheit 451 is my favorite. While 1984 focuses on the government as "Big Brother" and how it is always watching you, Brave New World basically numbing emotions with the drug called soma, Fahrenheit 451 deals with censorship and living in a society where basically learning and knowledge is forbidden, as is books. They hire firefighters to go through people's houses to burn all of the books. It's my favorite.
But I digress, this isn't a book review but a shirt review. T-shirts are a way of expressing a lot of your interests and brands you love yet books really have never made it onto shirt til now. I love this idea and the shirt is awesome. It's comfy and perfect and honestly just makes me want to read the book again. But an even greater thing about Out of Print is that every purchase you make from them they donate one book to a community in need through their partner Books for Africa and now that is pretty awesome.
Overall, I was really impressed with
Out of Print Clothing
. I definitely recommend checking them out, whether you are a book lover yourself or you need to give a gift to that special book lover this is the website to get it from. Now if only they had a To Kill a Mockingbird shirt I'd be in my glory, haha just kidding, the shirts are awesome, you won't be disappointed!
Buy It!
Head on over to
Out of Print Clothing's website
and browse their selection!