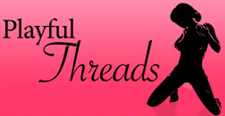 Hey everyone! My next review and giveaway is for
Playful Threads
. Playful Threads is a great website that has a bunch of sexy stuff. Literally. From sexy lingerie to clubwear, you want to feel a little bit sexy? They have the stuff for you!
I received the
Rosalinda - Halter Neck Top with Sequin Cup Detail
, I took this half face picture because I wasn't wearing any makeup, but hey it's not my face that counts it's the shirt.
Being still a little bit of a prude, I couldn't go for any of the
fancy lingerie
or corsets or anything so I chose this tank top. It's a little flashy without screaming too, much. This would be casual in Vegas. Though I feel like it really points out how small my boobies are with that giant space in between them...but maybe that's just me. The girl on the website put a bunch of fancy necklaces in that in-between so maybe if I do that, that bright white space won't be as noticeable?
I do really like the shirt though. It is one of those in the middle shirts, if that makes sense. It has a nice little way the bottom half falls so it's not super tight but not loose enough where it looks like you're pregnant or where it's too loose you can't wear it with loose dresses or shirts.
It also has a halter in the back which I thought was really nice. I'm weird where I am obviously a little self conscious about showing off my front but I love exposed back tops, especially halter tops. It shows some skin where it's sexy but still leaves the important stuff covered so guys can use their imagination if you know what I mean.
The quality of this shirt is really great too, sometimes clubwear can be made so cheaply, this fabric is nice and the sequins are sewed on really well. I was super impressed.
Overall, I really loved my shirt from Playful Threads and I definitely plan on wearing it the next time I go out, preferably when I'm in Vegas.
Buy It!
Head on over to
Playful Threads' website
and browse their awesome selection! Use
FREE SIB
to get free shipping!
Win It!
ONE winner will receive a $30 gift certificate to Playful Threads!
a Rafflecopter giveaway