Hi everyone We all know Valentine's Day is coming up, and it's sweet and cute, blah blah blah, but a much more awesome and cooler holiday is coming up after VDay and no I'm not talking about President's Day, I'm talking about St. Patrick's Day. To start the celebration a little sooner, I am happy to review
St. Patrick's Day T-Shirts
.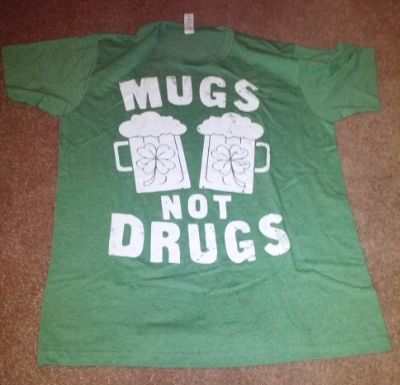 I received their Mugs not Drugs shirt. Now online their Mugs Not Drugs shirt looks a little
different
, but honestly I prefer the one that was sent to me more. I like the white and green. Simple but still funny.
Unfortunately the smallest they had in this shirt was Medium so hopefully my roommate doesn't read my blog because she has a present when she gets back from visiting home. She's a redhead, likes beer, and is irish so I think she will enjoy it.
I am a big fan of clever shirts especially clever St. Patrick's Day/Drinking related shirts, needless to say that is why I chose this one. I like beer way better than other drugs too that's for sure.
Also St. Patrick's Day Shirts are from the makers of those cool people at Crazy Dog T-Shirts, so you know the shirts are funny, good quality, and very reasonably priced.
Whether you are looking for a fun gift to gift someone or need a St. Patty's day shirt for yourself, definitely head on over to their website and browse their awesome collection. You won't be disappointed!
Buy It!
Head on over to SaintPatricksDayShirts.com and check them out!