Hey everyone! My next review is for
eShakti
. eShakti is a great company that has a variety of women's clothing. What's great about it is that it's a custom clothing company, so you while you can shop by regular sizes you can also shop by custom size by sending them your hip/waist/bust etc size, too.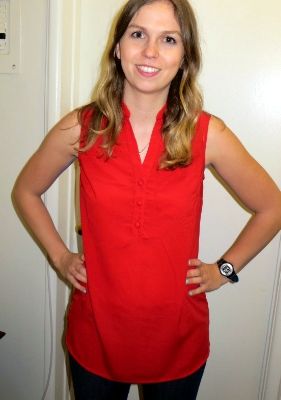 I was sent this lovely top to review. I forget the name and I can't seem to find it on the website anymore but it was apart of their new Spring line.
It's a nice, sleeveless red top with three buttons up top and a little pocket in the upper right hand corner that you can't really see in this picture. I tried to enhance the photo more but because of the bright red color you can't see much of the detail. I do love the red color though, I don't have many red shirts but it is perfect for spring and summer. It is loose fitting and fairly long, made from 100% polyester so it is really light and airy. Definitely one of those "in" tops out now. It's also a top that I can see myself wearing a lot because it's simple but you can still dress it up with nice pants and heels or dress it down with just jeans and sneakers. It works for all occasions and it fits perfect on me, definitely is going to be a new favorite of mine.
eShakti has a great variety of clothing for women, too. From bridesmaid dresses to nice shirts like mine above to some really cute pencil skirts. Any girl browsing this site is bound to find something she will want.
Now eShakti has a special where you buy one item and get the second item 50% off now thru March 20th. It's the perfect time to do some spring shopping!
Overall, I was really impressed with eShakti, the shirt is so, so great. Great quality and versatility, I just know I am going to wear it all the time. If you are in the market for some new skirts, dresses, or tops or just want to browse definitely check them out you won't be disappointed!
Buy It!
Head on over to
eShakti's website
and browse their awesome selection!