Hey everyone! my next review is for
L Duncan Apparel
. L Duncan Apparel is a great website that sells a variety of men and women's accessories and tops.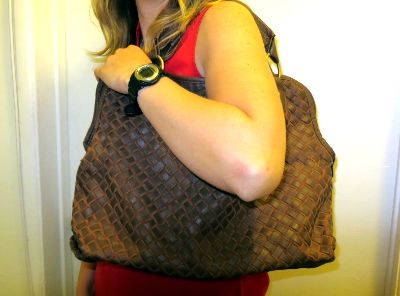 I received this awesome Basketweave Hobo handbag.
Their website says:
"Our Basketweave Hobo is 6 handbags in one. It can be carried with the shoulder strap or the woven brass and leather handle. You can show your crafty side with the basketweave pattern, or show your uptown side with the smooth leather surface. For a third, more chic look, you can carry this bag with the top flipped over. However you wear it, you're sure to stun onlookers."
I actually didn't receive the shoulder strap when I received the handbag, but it's cool because the bag is still really great. It is super versatile and reversible. As you can see from the two photos above it can be a large hobo bag or a smaller, almost clutch, handbag. Also, the hobo bag has two sides a simple but nice brown side (like the small handbag, that fold is one side of the hobo bag), or one with a sort of basket-stitch pattern. Really awesome and super unique.
The quality of the bag is really great. It's not shiny or gaudy with the chain. It is really classy and can be worn with anything. One little thing is that I wish the chain was removable. I preferred the larger hobo bag style just because I have a lot of junk I travel with (one is usually a book that's why) but the chain just kind of hangs there in the center and it could get tangled with your stuff. Other than that I really did love the bag, it fits everything and is my new favorite.
Definitely check out L Duncan Apparel they have a great selection you may be on there for a bit but because they have such a great, awesome selection for men and women. You definitely won't be disappointed!
Buy It!
Head on over to
L Duncan Apparel's website
and browse their awesome selection!