Hey everyone! My next review and giveaway is for
Mara's Pasta
. Mara's Pasta sells a variety of great and delicious whole wheat pasta. It tastes delicious and it's healthier than regular pasta, yay!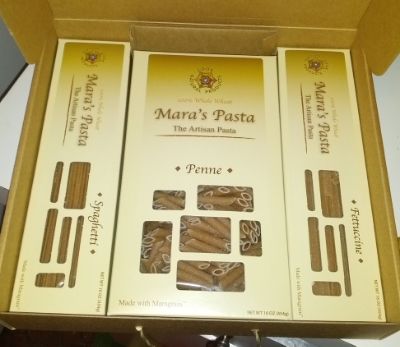 I received three amazing boxes of pasta:
Fettucine
Penne
Spaghetti

I love pasta, I used to not make it because I thought it was hard but man it's super easy! The first box I opened was their penne because I just had spaghetti recently and I didn't have any alfredo sauce for the fettucine. I created this delicious masterpiece: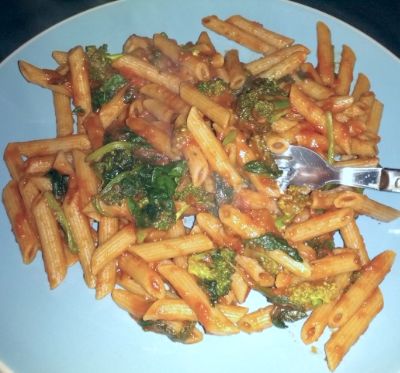 It was soooo good! The box said that Mara likes to cook her pasta for eleven minutes and listen, it's called Mara's Pasta for a reason, so I listened to her and it came out perfect. I added some garlic pasta sauce, some broccoli and spinach, and BAM! The perfect dinner.
Some awesome benefits of Mara's Pasta is that it has a unique variety of wheat which gives it a better taste and texture. It is designed for athletes and others who are looking for more nutritious foods. It is higher in protein and fiber than other whole grain pastas. Grown for Cook Natural Products by a network of US family farmers. It cooks faster than other whole grain pastas. It is made with 100% whole wheat variety specific Maragrain. Maragraintm is non-GMO (not genetically modified) and is Identity Preserved. Identity Preserved means that it is kept separate from any other wheat throughout the process of growing and milling the wheat, and manufacturing the pasta. The identity of the flour is preserved. In addition, Maragrain is milled to exact specifications that contribute to the uniqueness of our flour and pasta.
Basically Mara's Pasta is better for you but tastes just as good as any other non-healthy pasta. They mention a different texture but I didn't really taste a difference in texture and I love my penne.
Overall I was very impressed with Mara's Pasta it was so, so delicious. If you love pasta you will love Mara's Pasta, it's perfect and tastes great. Check it out you definitely won't be disappointed!
Buy It!
Head on over to the
Mara's Pasta Online Store
and browse their awesome selection!
Win It!
ONE winner will receive some Mara's Pasta too!
a Rafflecopter giveaway
Disclaimer: Mara's Pasta provided me with a free sample of this product to review, and I was under no obligation to review it if I so chose. Nor was I under any obligation to write a positive review or sponsor a product giveaway in return for the free product.