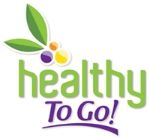 Hey everyone! My next review is for
Healthy To Go Brands
. To Go Brands have a variety of drink mixes that are pretty awesome and delicious.
I received their
Green Tea Energy Fusion
to review.
As their website says:
"Certified organic & perfectly refreshing, Green Tea Energy Fusion® is more than just tea. It is a fusion of healthy, all-natural, energizing teas, herbs, and extracts from around the globe. It provides a gentle energy lift while also supporting the metabolism. In ultra-convenient packets that you simply add to bottled water."
I really enjoyed the taste of this, it almost tasted like iced tea which is basically what it is. Super easy to use to all you do it take a few sips of your water bottle, put this powder in, shake it up until it's all dissolved, and bam enjoy!
It's loaded with 100mg of EGCG antioxidant energy. It also has organic aloe vera which studies show help the liver convert fats into energy. It is gluten free. It is made with organic japanese green tea. It contains organic guarana seed extract and organic yerba mate both which help energize the body and used to help mental and physical fatigue.
All these awesome benefits and it tasted good too!
Overall, I was really impressed with To Go Brands and this green tea energy fusion, it's yummy and gives you an awesome boost. Definitely check it out you won't be disappointed!
Buy It!
Head on over to
To Go Brand's website
and browse their other drink mixes too!
Win It!
ONE winner will win a box of 24 packets of Green Tea Energy Fusion!
a Rafflecopter giveaway