Hey everyone! My next review is for
Arctic Zero.
Arctic Zero is this great ice cream company that is super low in calories but are extremely delicious.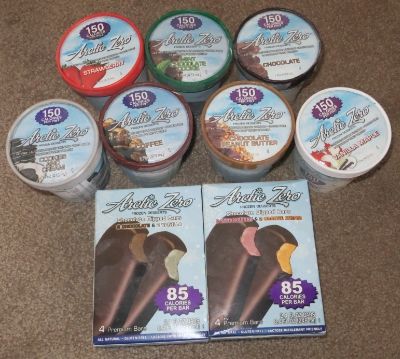 The flavors I received are:
Cookies and Cream
Vanilla Maple
Strawberry
Chocolate
Chocolate Peanut Butter
Mint Chocolate Cookies
Coffee
Strawberry and Orange Cream Bars
Chocolate and Vanilla Bars

Arctic Zero was super generous and sent a ton of their yummy flavors. My roommate and I had an ice cream tasting night and tried them all! Aside from the typical "I'm not a big strawberry ice cream fan, you can have this pint." (from me. Love strawberries just not big on strawberry flavored things, wawaa.) there were no complaints!
By super low in calories I mean SUPER LOW! Each pint, not each serving, each PINT is only 150 calories! That is insane and dangerous because I could eat the whole pint for breakfast pretty much. The bars are also only 85 calories. I know it's kind of unbelievable, usually ice cream has to be loaded up in calories to taste delicious but seriously these are delicious.
You really can't even taste a difference in flavor at all. Only little things are different like the cookies and cream has no cookie pieces and is a little more lighter and not as creamy. But flavor wise, it still tastes just like cookies and cream. It's so weird but amazing at the same time.
Some other great things about Arctic Zero is that it has no GMOs, gluten free, fat free, suitable for lactose intolerants, low glycemic so it's suitable for type 2 diabetes, 14 grams of whey protein per pint, 8 grams of fiber per pint, kosher, contains only natural and organic ingredients, and tastes amazing!
Overall I was insanely impressed with Arctic Zero. I'm a huge ice cream person, in face my sweet tooth is pretty much my downfall, so I'm going to look out and buy Arctic Zero from now on when I'm craving ice cream because it still tastes great but is less calories and is even pretty good for you with the fiber and protein. I didn't know healthy ice cream existed until I discovered Arctic Zero, so thanks Arctic Zero!
Buy It!
Head on over to
Arctic Zero's website
and see where they sell them near you! Also be sure to follow the on
facebook
and
twitter
too!