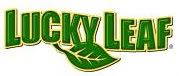 Hey everyone! My next review and giveaway is for
Lucky Leaf
. Lucky Leaf is a great company that sells a variety of delicious pie fillings. I have reviewed for them in the past and you can check them out
here
.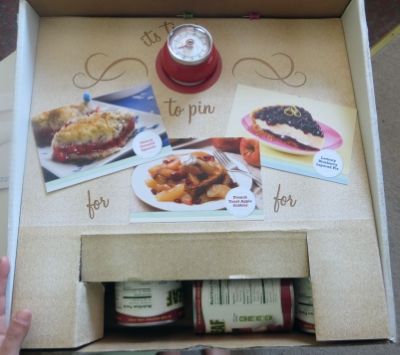 I was sent an awesome kit from Lucky Leaf with three recipes including:
Cherry Pie Filling
Apple Pie Filling
Blueberry Pie Filling
A retro kitchen timer

First off, I love the timer, especially because it's magnetic so I just stick it onto the fridge and I won't ever lose it. Plus it's easy to use just twist it to the time you need and boom.
One of the recipes was
Cherry Coconut Squares
and that one sounded so delicious and also pretty easy so I decided to make them.
Ingredients
⅓ cup sugar
¼ cup butter
1 ½ cups all-purpose flour, sifted
¼ teaspoon salt
18-ounce can flaked coconut
121-ounce can LUCKY LEAF® Regular or Premium Cherry Pie Filling
Instructions
Preheat oven to 375°F.
Cream sugar and butter. Sift flour and salt together and then add to creamed mixture. Mix in coconut.
Pack 1/2 of this mixture into a greased 9-inch square pan. Spread LUCKY LEAF Cherry Pie Filling on top. Put remaining crumb mixture on top of pie filling. Pat down firmly Bake for 25 to 30 minutes. When cool, cut into 16-squares.
Like I said it was really easy, though I couldn't really make them into perfect squares, they still were delicious!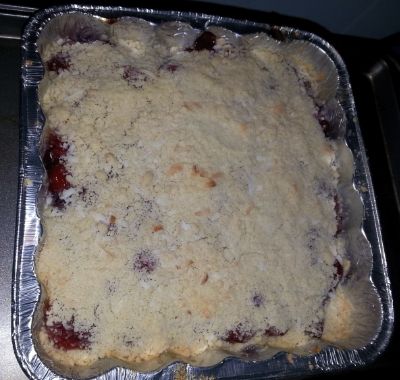 So easy to make and so delicious. The cherries give it a nice tart taste but the coconut compliments it with it's sweetness, it was like a tropical kind of cobbler. Definitely try making it, it's different but so simple and delicious! Literally probably the only thing you have to buy is the cherry pie filling (from Lucky Leaf of course) and the coconut flakes because the rest is just ingredients you usually have at home. One thing is it said only 30 minutes but I had it in the oven for around 45 minutes. Basically once you see the top brown is a good time to take them out.
That's not all, Lucky Leaf is also having an awesome Pinterest giveaway! Here's all the details!: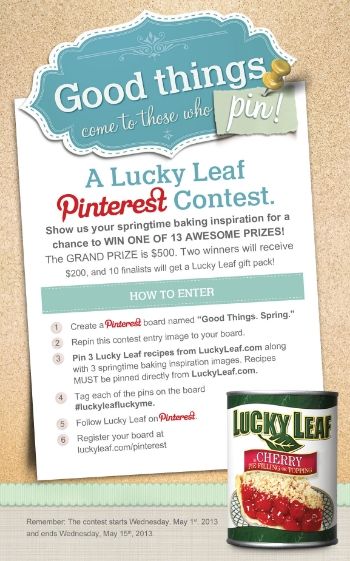 Pinterest giveaway starts May 1st and lasts til the 15th so check it out and find out more info
here
.
Buy It!
Head on over to
Lucky Leaf's website
and browse their products! Then click on the
Store Locator
to see what store is selling them near you!