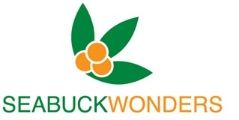 Hey everyone! My next review is for
Seabuck Wonders
. Seabuck Wonders is a great company that has a variety of great skincare products all made with high concentration of sea buckthorn. Sea buckthorn are berries that contain at least 30-35% omega-7 content and are pretty excellent for your skin. Dr. Oz has even highlighted it on it show a few times!
I was sent the following products from their Natural Skin Care Program:
Sea Buckthorn Facial Cream
Sea Buckthorn Body Lotion
Sea Buckthorn Facial Cleanser
Sea Buckthorn Hydrating Serum


I really enjoyed these products but I have to say the color of them kind of takes you aback at first. They are all bright yellow, even the lotion. But it doesn't stain or do anything to your skin, it is just shocking to see at first.
What's great about these products is that they are USDA certified organic, they're non-GMO, paraben-free, and cruelty free.
All of the products really worked great. The exfoliating facial cleanser was super invigorating. It cleaned your face and exfoliates but doesn't irritate or bug your skin in doing so. It cleans and exfoliates but pretty gently while still hydrating your skin for a smooth and clear complexion. The hydrating serum was really cool it, it is moisture-rich, light weight and easy to apply. It nourishes your skin and supports cell regeneration to minimize fine lines and wrinkles, which is really great because it's all pure and natural, there's no chemicals or anything. The facial cream was super moisturizing, hydrating, and lightweight. It is a great basic facial cream but also it protects against visible signs of UV-induced stress which is great, especially for the spring and summer coming up or if you live in an always sunny place like me! The body lotion is nutrient rich and quick absorbing, it also protects against visible signs of UV-induced stress, too!
I really liked the lotions and creams because they weren't greasy and were easy to rub in. The cleanser was great too because it lathered up super quick and a little went a long way.
Overall, I was really impressed with their products. They are awesome and work great for all skin types, definitely check them out!
Buy It!
Head on over to
Seabuck Wonder's website
and browse their great selection!