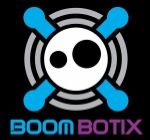 Hey everyone! My next review is for
Boombotix
. Boombotix is a great company that sells a variety of awesome portably speakers. They have wireless and wired ones but even the wired ones are so easy to travel and move around with.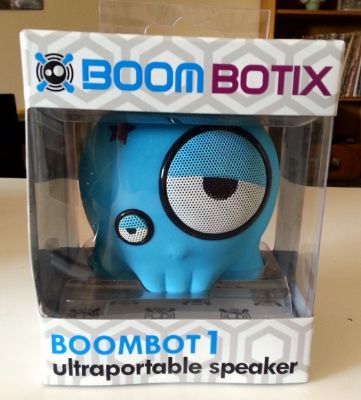 I was sent their
Boombot 1
wired speakers in
LazE Blue
to review.
The speakers comes with a charging cable, a normal Aux cable to plug into the earphone jack and a cool retractable aux cable. I really love the retractable one because I get tangled with cable all the time but this makes everything so clean and nice.
I tried this speakers out on my computer and you could hear quite a bit of static I am not entirely sure why because it says it's compatible with computers and I have other speakers I use for this computer and they don't have static. But then I tried these on with my phone and my iPod and it was a much, much clearer sound. So I definitely recommend them for portable speakers like when you're going to the beach and just have your phone or are camping and want to connect your iPod, they work really well.
It's also cool because it has a clip too so you can walk around, bike ride, or clip it onto your bag away from the sand on the beach. They're also water resistant and literally fit in your palm so they're super easy to carry around with you. Plus they're pretty cute.
Really easy to charge too, you just plug it into your computer and you'll see the star blink green on his forehead. Charging takes about an hour and the sound lasts for around six hours. Another really awesome thing is that they have a 1 year warranty so if anything happens in a year you can return it no questions asked.
Overall, while I was a little bummed it acted odd with my computer I do think they make great portable speakers. I plan on keeping it in my car so whenever I go on day trips I can have a nice speaker to play some tunes off my ipod. Definitely check them out!
Buy It!
Head on over to
Boombotix's website
and browse their selection because they have a bunch of cute little guys to choose from.