Hey everyone! My next review is for
got2b POWDER'ful
which is an awesome Volumizing powder for your hair! I received the opportunity to review this thanks to
bzzAgents
.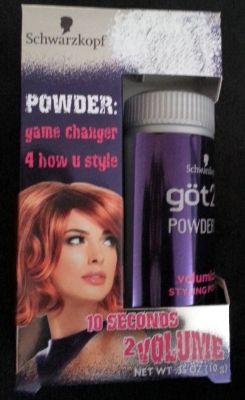 The innovative volumizing styling powder instantly takes hair to new heights, delivering pronounced volume, radical root lift, amazing texture and flexible control. All in just 10 seconds! Formulated with virtually weightless micro-particles, this salon-quality powder texturizes the surface of your hair, creating maximum volume at your roots. There's no powdery residue or stiffness, just the freedom to create modern, edgy 'dos with an undeniable wow factor. Apply anytime, anywhere for an immediate transformation.
It's really easy to use, all you do is shake some onto your palm, rub your palms together, the powder will vanish but you'll still feel it on your hands then you massage it into your scalp/roots and boom extra volume!
I have really fine, flat hair. So this is awesome for me and it really does work. I like that even when you put it in your hair you still don't see it. Sometimes I worry with powders and such that you might notice them in your hair and they'll look like dandruff or something. But this is invisible on your palms and stays invisible in your hair.
Super simple, super easy to use, and you definitely do see a difference as soon as you do it. It takes a matter of seconds and is pretty awesome! Definitely check it out if you need a boost and have fine hair like me, you won't be disappointed!
Buy It!
Head on over to
Got2b's website
and see where they sell it near you!