Hey everyone! My next review is for
Among Friends
. Among Friends is a great company that has a variety of baking mixes that are so easy to make and so, so delicious.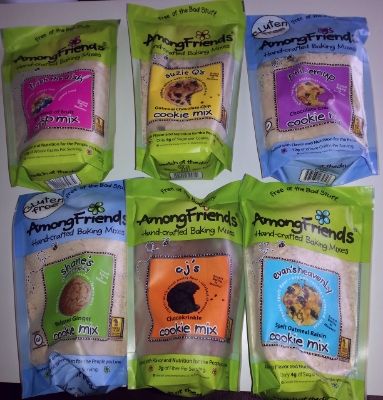 I was sent the following baking mixes:
Trish the Dish Fruit Crisp Mix
Suzie Q's Oatmeal Chocolate Chip
Phil 'Em Up Chocolate Cranberry
Shane's Sweet-n-Spicy Molasses Ginger
CJ's Chocokrinkle
Evan's Heavenly Spelt Oatmeal Raisin

I started out making two batches of cookies and the first two I made were the CJ's chocokrinkle and the Evan's Heavenly Spelt Oatmeal Raisin. They were both so, delicious and made a big batch of cookies. What's great though is that they make little guys so you can make 30 half-dollar sized cookies. My roommate an I practically demolished the two batches in like 3 days...well, probably a little less. It didn't help that I just left the tupperware container filled with cookies in plain sight on the counter. It also didn't help that they were pretty addictive and delicious.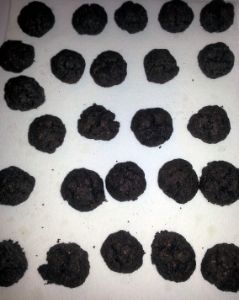 These cookie mixes are free of all the bad stuff and made with ingredients you know and can pronounce, too. But they end up still being soft, delicious, and not tasting like cardboard! It's awesome. They are gluten free, whole grain, and still packed with flavor and nutrition. They're also low in sugar, too.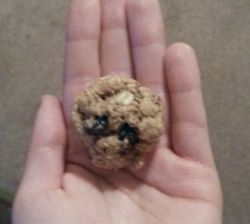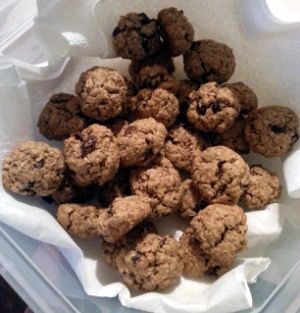 I also enjoyed how easy they were to make, all you need are eggs, butter (or a butter alternative like coconut oil or vegan substitute), and vanilla. I actually ended up using almond extract because I had no vanilla and they still tasted good. They are SO easy to make too which is great because sometimes I'm lazy. Basically you preheat the oven 350 degrees, mix all those ingredients and the baking mix in a bowl, put a 1 inch balls on a cookie sheet, wait 8 to 10 minutes and boom.
Overall I was really impressed with these baking mixes, they are so delicious and easy to make plus not that bad for you like most cookies are. Definitely check them out you won't be disappointed!
Buy It!
Head on over to
Among Friends' website
where you can buy them online!