Hey everyone! My next review is for
Palmolive
and their new line called Soft Touch. Palmolive's Soft Touch is a great new formula of dishwashing soap that cleans dishes but isn't rough on your hands. I received this opportunity thanks to
Influenster.
I received the:

Soft Touch Vitamin E
Soft Touch Aloe for Dry Skin

I really loved these products. Everyone hates doing dishes for a variety of reasons but one for me is because my hands feel so raw afterwards. Fortunately they didn't feel that way with these!
I actually kept the Vitamin E one and gave the Aloe one to my mom because her hands are really dry and basically she is the perfect candidate for Palmolive Soft Touch Aloe. She really liked it. Her hands weren't as chapped, red, and uncomfortable as they usually are after washing dishes and they smelled nice, too.
I enjoyed the Vitamin E one too because it made my hands feel soft afterwards too but also got the job done. They really cleaned the dishes, in fact, I noticed that I didn't have to use as much soap to clean dishes as I had to with my previous dishwashing soap. Just a small dab and it lathers up enough to clean so much.
The Vitamin E is made with a mild formula with a touch of Vitamin E was designed to be soft on hands while still providing powerful grease cutting action leaving your dishes sparkling clean. While the Aloe is specially formulated to be gentle on hands. With a touch of aloe, this formula is dermatologist-tested to be gentle on sensitive skin.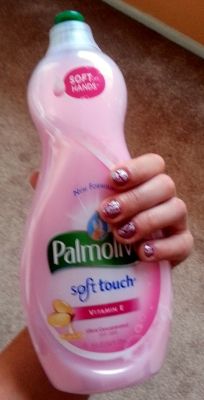 Overall, I was super impressed with these products, as was my mom, definitely check them out if you feel like you're stuck in a rut with your dishwashing soap or just in pain because it leaves your hands hurting, try these and you won't be disappointed!
Buy It!
Head on over to
Palmolive's website
or to your local Wal-Mart!