Hey everyone! My next review is for
I Heart Keenwah
. Which is a company that sells delicious snacks made of quinoa (pronounced keenwah). Proving that quinoa is not your average pasta, you can enjoy some pretty sweet stuff with it, too!
I received:
Cranberry Cashew
Ginger Peanut

These are all natural quinoa clusters and are such delicious snacks. They are gluten free, too! I personally loved the cranberry cashew the most just because I'm not a huge fan of the flavor of ginger. The cranberry and cashew really complimented each other.
Quinoa is the only whole grain with a complete source of protein and contains all nine essential amino acids. These clusters are great, too because the list of ingredients is short, simple, and items you read and can understand like "raw sugar" and "dried cranberries." There's ten ingredients on the cranberry cashew and ginger peanut clusters. That's it!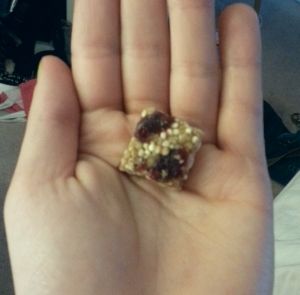 I really liked that they were chopped into smaller squares too and not bars just because they give you more of a snack experience and they last a lot longer. I can just grab a few squares when I'm craving something sweet and that's it, save the rest for later. But even that is pretty difficult because they re that good!
Overall, I was really impressed with I Heart Keenwah, the snacks were so good! Definitely check them out, you won't be disappointed!
Buy It!
Head on over
I Heart Keenwah's website
where you can buy them online or see if a local store near you sells them!